Founder of myhrtoolkit Jon Curtis outlines the exciting news of our being acquired by Agilio and how this will help us grow as an HR software provider.
I have some very exciting news about the future of myhrtoolkit. I am delighted to announce that, as of 15th April 2021, we have been acquired by the UK group company, Agilio Software, backed by August Equity. This is a really exciting move which will significantly enhance our product over the coming months and years.
Agilio Software provides compliance, e-learning and HR solutions in the Dental, Hospital and GP sectors. They approached myhrtoolkit to add a robust and successful core HR software product to their offering. Whilst Agilio will be incorporating myhrtoolkit into their healthcare offering, we will continue to develop our system as a cutting-edge core HR software product for all SMEs.
We will benefit from the complementary strengths of the combined businesses: myhrtoolkit's commitment to high quality SME focused software combined with the investment, scale and ambition of Agilio. Being part of Agilio will grant us access to considerable new markets, skills and financial resources, accelerating our development.
Myhrtoolkit will continue as a distinct business, with our customers and partners unaffected on a day-to-day level. We will continue selling into the same markets in the same way with existing agreements unchanged.
Bob Teasdale becomes Managing Director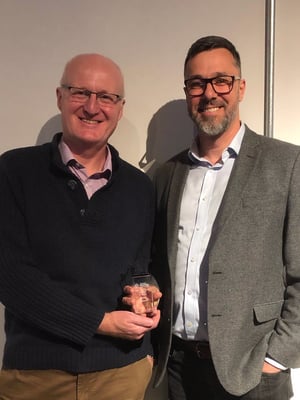 New Managing Director Bob Teasdale (left) with myhrtoolkit founder Jon Curtis
I am very proud to announce that I have asked Bob Teasdale to become Managing Director of myhrtoolkit. Bob's continual support and encouragement, along with his management and strategic skillset, means there is no one better to take on the role. As for me, I am taking on a group role to develop our HR offering into the healthcare sector, but will still very much be around.
Other than this, there are no real changes. It's the same team, the same phone numbers and email addresses, and the same great service as before.
If you have any questions at all then please call us on 0345 225 0414, or drop an email to enquiries@myhrtoolkit.com
To every Customer, User and Partner that has supported us over the years, you have all contributed to and been part of our success, I thank you and continue to appreciate your involvement. We look forward to the next chapter of myhrtoolkit with excitement and enthusiasm.
Best Regards,
Jon Curtis
Former CEO of Myhrtoolkit Limited