2014 has been a fantastic year for myhrtoolkit; a year that has seen many changes and growth, not only for the HR software we provide but internally as a company. Our business has grown by 50% in 2014, accelerating over the course of the year. Here is a round up of those changes.
We moved to bigger offices
If you had not already heard, we were very excited that the myhrtoolkit team moved to a brand new and much larger office in October. Our old office served us well and we have some great memories but we are looking forward to settling in to our new space.
Our contact details all remained the same as we moved within the same building. Our main motivating factor for our move was space. The growth we achieved during the year meant we needed more resources but had nowhere to put them.
Toolkit blue on the wall: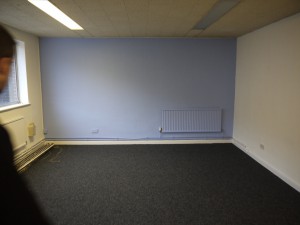 Starting to get the cabling sorted out: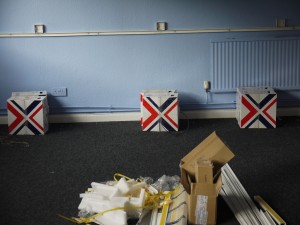 The office starting to fill up: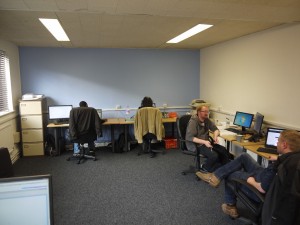 When we first moved in, we thought we had loads of space, it already feels that it won't be long until we have filled this office too!
New team members and team changes
Marketing manager Peter joined myhrtoolkit four months ago; his role being to take on some of Bob's duties but also to improve upon the current sales & marketing structure. Our goal is to continue providing the best HR software for SMEs while maintaining our high level of customer service.
Bob has moved from Business Manager to become myhrtoolkit's Operations Director. Bob will continue to look after all of our partners and, as he puts it, "keep the wheels on".
Kit has been one of the developers on our software for a while now and has now taken on an increased role as Technical Director of myhrtoolkit. As well as continuing to improve our software, Kit will make sure the HR toolkit is ready for the future; ensuring it remains stable, secure and future proof as our user numbers grow.
Simon came on board in December as our Sales and Marketing Administrator, helping to keep all of the different parts of team toolkit together. In a varied role, Simon has tackled all the different tasks thrown at him with ease and is already helping the team and customers immensely.
Improvements to the system
As most users of our software will know, myhrtoolkit is constantly evolving. Whether that is adding reports, tweaking layouts or adding major new functions.
Behind the scenes, much work has been carried out to keep myhrtoolkit fast and lean. As well as many small additions and tweaks to functionality this year, major improvements have included the variable hours and the new look myfile area.
We have also just launched in the past few weeks career history tracking, you can now record the changes in an employee's job title to create and track their career history.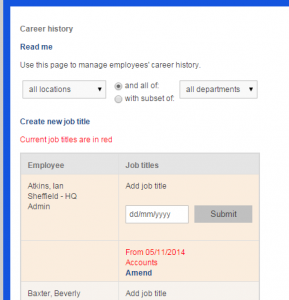 Exhibitions and events
Myhrtoolkit has attended a number of different events and exhibitions around the UK. From the major events such as the HR Software Show at Olympia and the CIPD Annual Exhibition in Manchester to supporting partners locally with such as smaller exhibitions in Cardiff and Daventry. We have enjoyed all the events we have been too and especially creating new stands.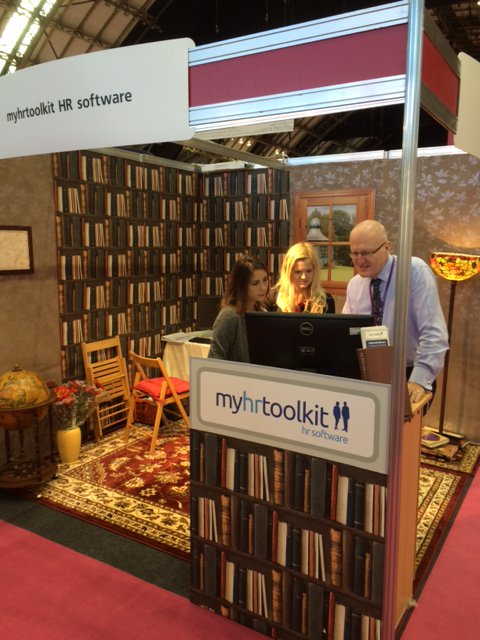 Above is our now famous "reading room" exhibition stand. We set out to do something a little different from the crowd and it certainly drew a lot of attention at the shows this year. We have decided to retire the reading room and hope to top it with a new stand design in 2015.
Big plans for 2015
We are confident that 2015 will be even better than this year. Early on next year, we are teaming up with our friends at HR smart to run a HR breakfast morning. We are inviting HR professionals in our area to not only to hear some expert advice but also to meet some of their peers in the area. We'll be going to the CIPD ACE 2015, and possibly some other exhibitions to be decided. Earlier this year we trialled a myhrtoolkit boot camp with one of our resellers this year and are looking to have some more training camps in 2015. We also have some exciting new features for myhrtoolkit on the horizon, but more on that another time.