We're so proud to have been a sponsor for the recent Golddigger Trust fundraising dinner and auction. The event has raised over £26,000 for youth mental health.
The glamorous dinner and auction event on Friday 10th May, attended by 170 guests, helped the charity raise a total of £26,692. This far surpassed their target of raising £20,000.
The highlight of the evening was listening to the moving words of one of the young people who has benefited from Golddigger Trust's help, Katie, who courageously shared her story with the audience.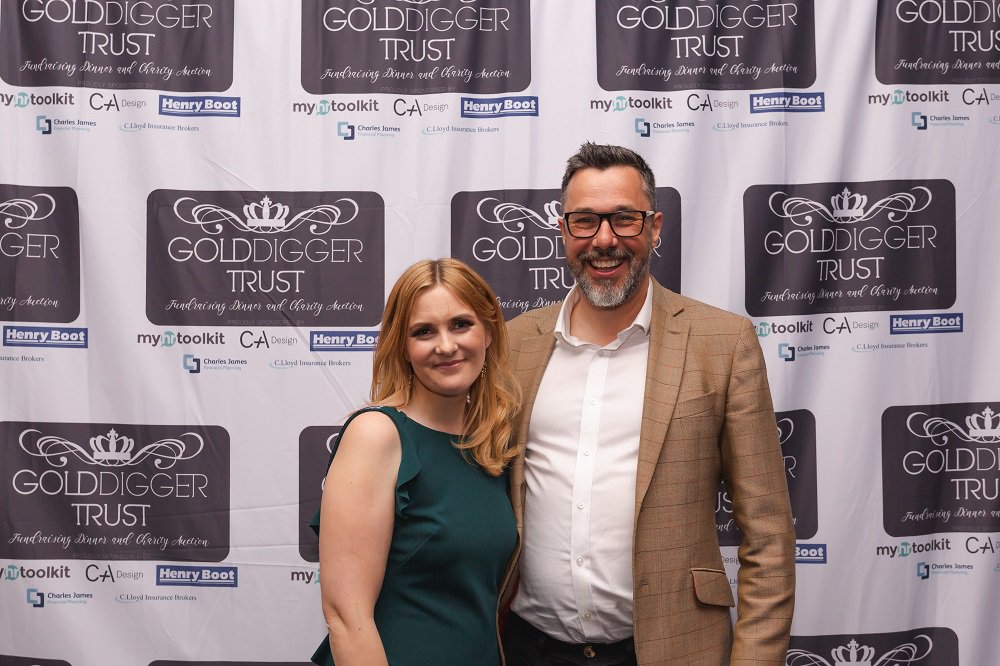 Image above: Myhrtoolkit MD Jon Curtis with Golddigger Trust Chief Executive Beth Stout.
Featured image from left to right: Beth Stout, Henry Boot plc Group Finance Director Darren Littlewood, Jon Curtis, C&A Design MD Adam Slade, Golddigger Trust Creative Director Mandy Toombs. Photos by James Thomas Stanhope Photography.
The event was hosted by the charity's Chief Executive Beth Stout and Creative Director Mandy Toombs. It included a prosecco reception, live music, and an auction followed by a three-course dinner. The event sponsors were myhrtoolkit, Henry Boot, C&A Design, Charles James Financial Planning, and C Lloyd Insurance Brokers.
There were a great range of prizes on offer, from weekends away to event tickets and luxury hampers. Our MD Jon Curtis successfully bid for a tour and afternoon tea at the House of Lords. It's sure to be an exciting and memorable day!
Golddigger Trust
As a youth charity, Golddigger Trust work to unearth value in vulnerable young people across Sheffield and beyond.
Their services and activities include courses on topics such as increasing self-esteem and confidence or managing emotions, mentoring and befriending, sexual health support and advice, and drop-in sessions.
Throughout their work, the charity promotes positive well-being. They state on their website: "We fundamentally believe that through developing positive self-esteem and well-being, people are more secure, aspire and achieve more, and are far less vulnerable to negative behaviours or experiences."
You can head to their website www.golddiggertrust.co.uk to find out more about their work. You can also read the charity's press release about the event.