Note: This event has been postponed and will be rescheduled as a webinar. We will send out updates on this as soon as possible.
Make your business more HR and recruitment ready with the SUB250 breakfast briefing in Sheffield on Wednesday 18th March.
Tailored for the Founders, CEOs & Managing Directors of companies with under 250 staff, SUB250 is an exciting new event for HR and recruitment strategies, hosted by hireful in partnership with myhrtoolkit.
Talks at SUB250
The two talks at the breakfast briefing will be delivered by myhrtoolkit Managing Director, Jon Curtis and Co-founder of hireful, Adrian McDonagh.
Jon will bring his knowledge as a HR software provider and previously an employment lawyer to the fore with a talk about 'HR Strategies for SMEs', demonstrating an easy-to-use framework for SMEs to maintain best HR practices and employee engagement.
Adrian's talk will focus on 'Making your Company Recruitment Ready', showing how your business can recruit top talent through telling your employer story, delivering a great candidate experience, and reducing your recruitment spend.
There will also be networking opportunities before and after the talks and breakfast will be provided by event hosts KPMG Sheffield.
Register for SUB250
Ready to up your company's HR and recruitment game and get the best talent for your business? You can register for your free ticket to the SUB250 breakfast briefing on Eventbrite (note: a maximum of two tickets are available per organisation).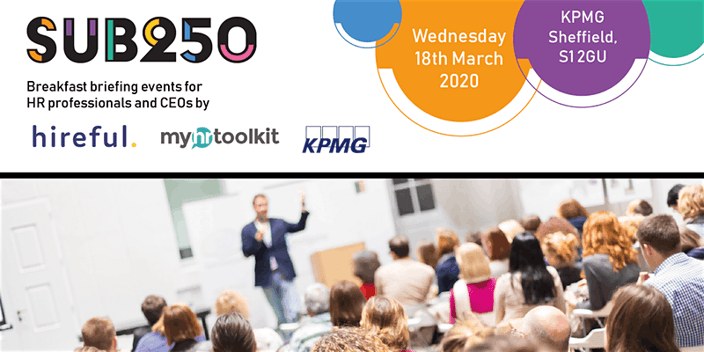 The SUB1000 recruitment event
As a partner of hireful, myhrtoolkit will also be appearing at the SUB1000 recruitment event in April. This day-long event in London provides HR professionals with specialist insider recruitment tips from the experts. Find out more about SUB1000 and how to register for the event.