2023 is approaching quickly - but what can HR professionals expect in this new year? We have conducted some research via Gartner's annual survey of more than 800 HR leaders on their top priorities in 2023, as well as analysing the trends of our vast HR network from the last year that are becoming more prominent, to identify the 5 top HR trends for 2023.

Our examination of the responses and data gathered led us to believing that the following 5 trends are what to watch out for this new year:
Developing Leadership and Management Effectiveness
Managing Organisational Change
Improving Employee Benefits and Development
Facilitating Better Recruitment
Preparing for the Future World of Work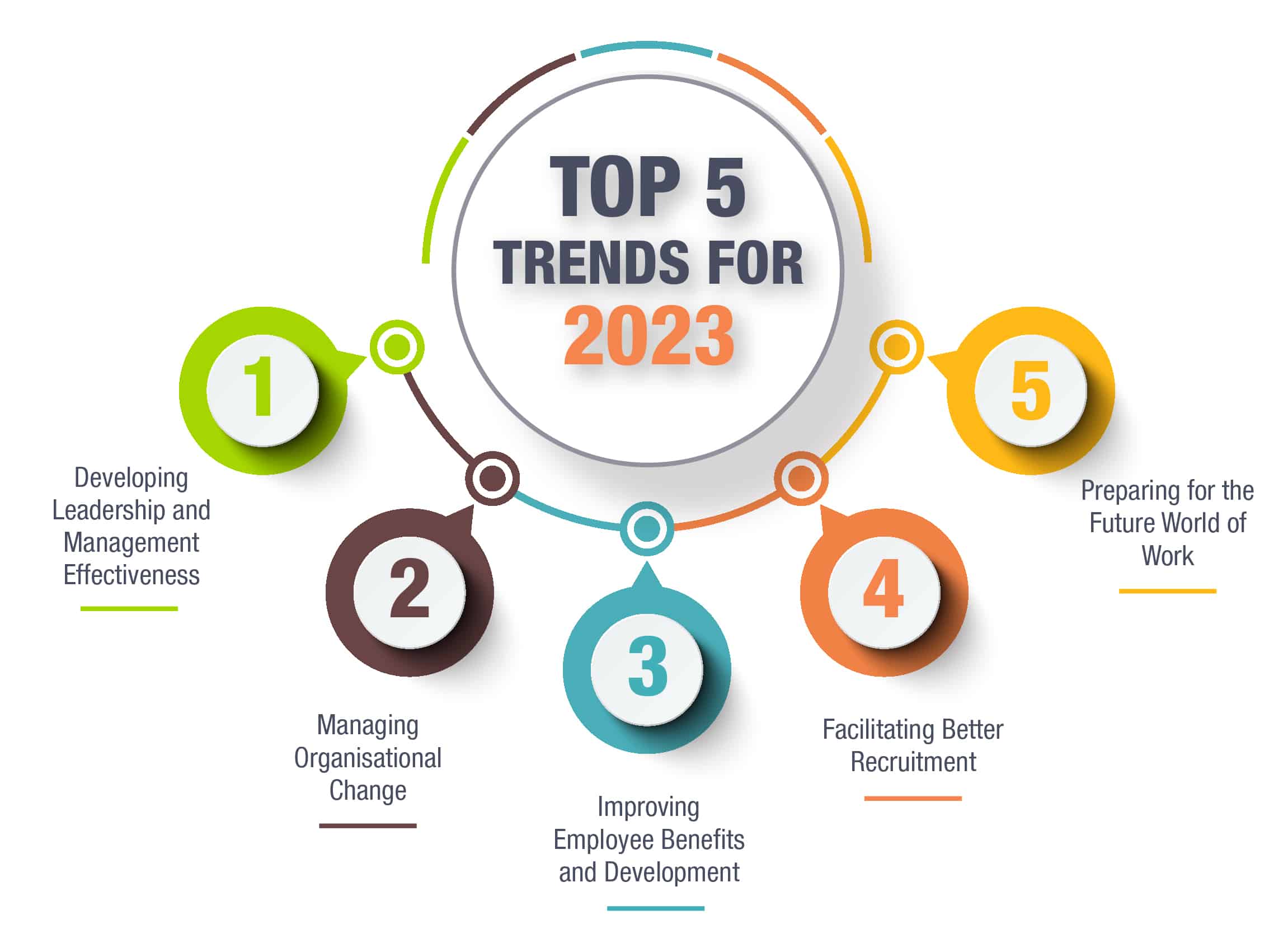 Below are some crucial insights and advice in order the effectively implement these top trends and ensure your organisation's HR is keeping up with the times.
1 – Developing Leadership and Management Effectiveness
Anyone can be a manager, but it takes a lot of hard work and practice to be a leader. Leadership means far more than delegating tasks and creating plans; it means guiding your team to success, helping them grow as professionals, and creating a healthy work environment for your employees to thrive in. For example, just over 20% of managers in the UK considered themselves purposeful leaders, and only 40% of employees noted their leader behaves ethically. Ensuring that your senior employees can become effective leaders is critical to positive business attitude and growth. With this in mind, we have collated some advice on ensuring your leadership and management effectiveness is on trend with what you can expect in 2023.
Cultivate and nurture individual leaders
By cultivating and nurturing leadership skills within your existing employees, you are paving the way for many of them to aspire to leadership roles within the company. Identify individuals who wish to progress further into leadership roles and ensure they have opportunities to demonstrate their skills. This could be by assigning them independent projects, or by allowing them to lead a team on existing ones.
Ensure your organisation's design allows for leadership development
Your organisation can better support leadership development by offering specialised training, creating an environment where employees feel more confident to demonstrate their abilities, and by introducing initiatives such as mentorship programs. By offering these opportunities to your employees, you will ensure that leadership development is being driven forward and that you create your organisation's future leaders within the business. This ensures that future management and senior level staff are not only leaders by skill, but also with your business' culture in mind.
Address any barriers to leadership within your business
It is essential that your organisation fosters an environment where leadership opportunities are available to all employees. Though you may be tempted to focus resources on more confident staff members or current management, it is vital you provide an opportunity to all. This encourages a more diverse range of employees to pursue leadership opportunities and roles, and therefore enriches your organisation's workforce. You can help to remove barriers to leadership by offering skill-building days for all employees, so that staff who do not often have the chance to join in training can do so without pressure from their role. There is also the possibility that some employees have been offered more opportunities for leadership roles than others, either due to direct or indirect discrimination. By reviewing and enforcing your inclusion and diversity policies, you can ensure that this is not the case for the future.
2 – Managing Organisational Change
It is vital for companies to learn to adapt quickly to organisational change. One such preparation for this is ensuring your company has a flexible organisational model. Companies with a global HR function must ensure that they consider that different countries and regions have varying approaches to work culture. By creating a company culture which encompasses and adapts to the various work cultures within it, you ensure that your organisation is keeping up with the trends and is not remaining within a static and unsustainable model.

It is also essential to ensure that your organisation is always prepared for any sudden or unexpected organisation changes. It is generally the responsibility of HR to ensure any changes are communicated and enacted effectively across the company. You may want to consider implementing tools and management practices to help organise your HR administration in case of sudden changes in the organisation. One such consideration could be a comprehensive HR management software that allows you to manage employee admin across the organisation and distribute documents and notifications instantly.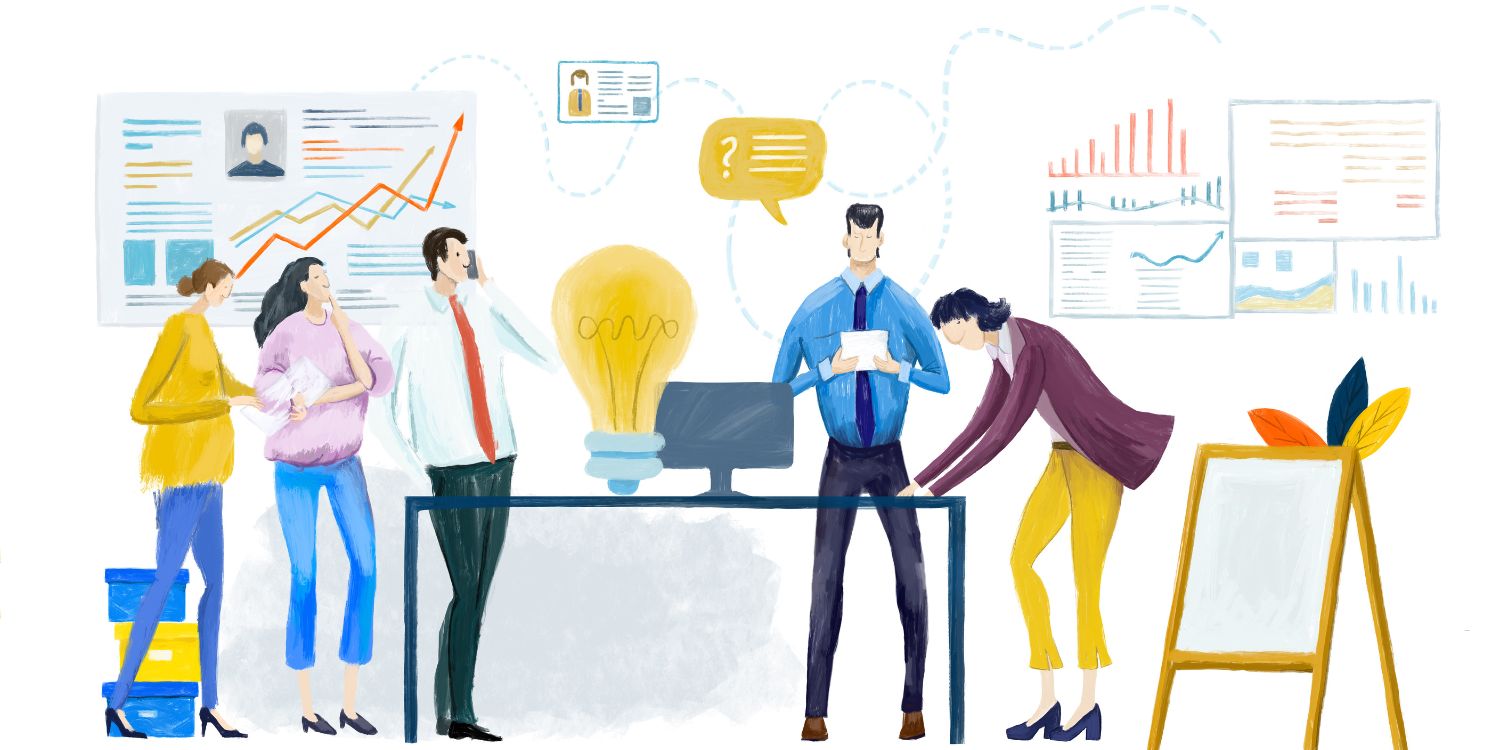 3 – Improving Employee Benefits and Development
Employee engagement is one of the most important aspects of ensuring your business captures and retains the best talent in the relevant industry. As a result, it is vital that your HR department focuses on this area and ensures your company is doing all it can to retain and develop current employees.

Employee benefits are incredibly important to many employees when addressing their career opportunities, whether it be before or during employment at a company. Without them, you will be at a constant disadvantage against other employers competing for the same talent – who may acquire these candidates before you do or poach your current staff. Both scenarios are very detrimental to the business. So, what kind of employee benefits should you offer?

According to Perkbox's 2021 survey of 1,532 employees, the benefits that were most sought after were the following: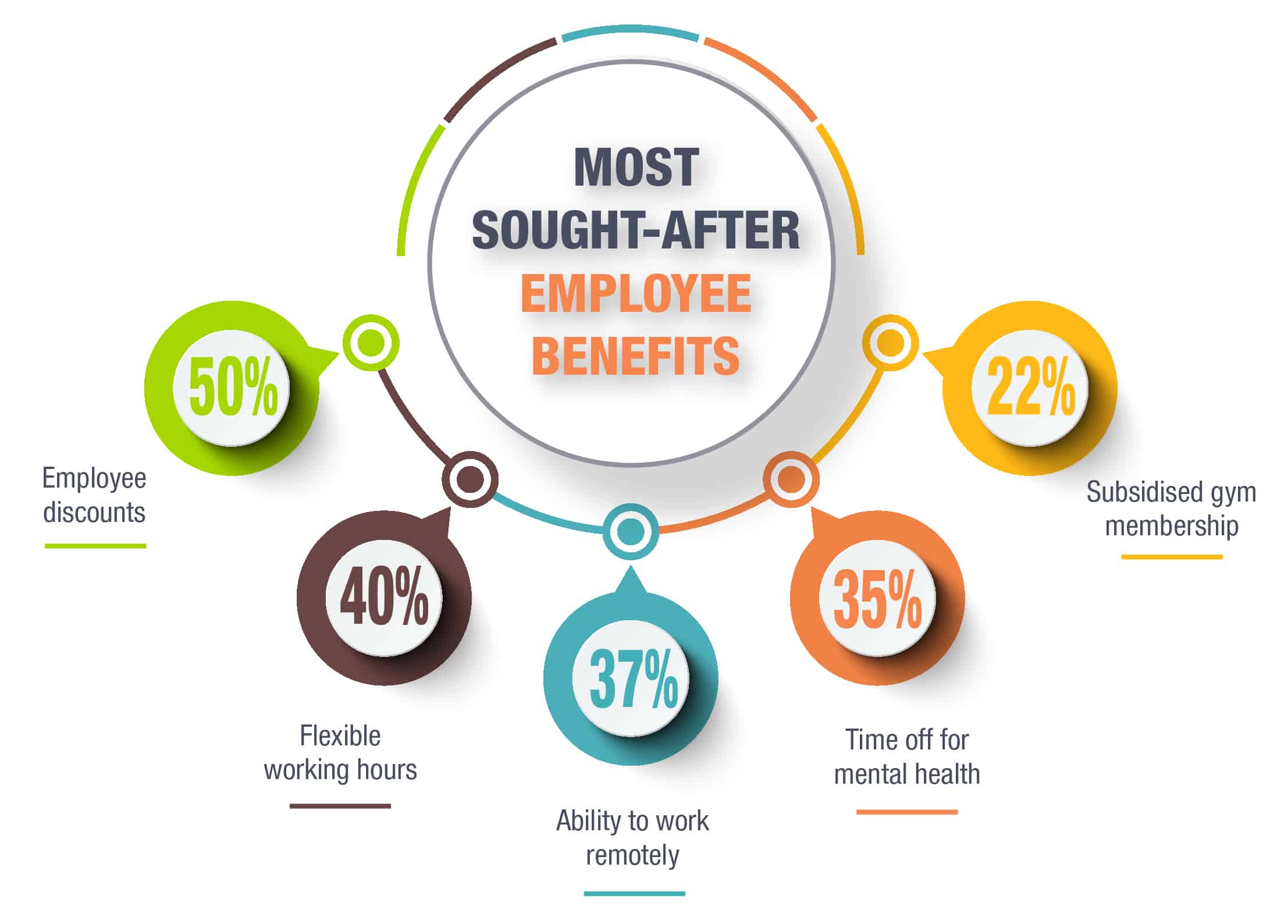 Employee discounts (50%)
Flexible working hours (40%)
Ability to work remotely (37%)
Time off for mental health (35%)
Subsidised gym membership (22%)
You may be thinking 'well, we already offer these kinds of benefits!' In that case, it is best to make sure your properly communicate these perks to new and current employees. Quite often, employees can miss or not receive communication pertaining to the benefits they have access to. As HR, it is imperative you take advantage of any benefits you offer your employees, and potentially investigate adopting more.
4 – Facilitating Better Recruitment
As an HR professional, you may be wondering why recruitment is such a high priority for your HR department, especially if you have a dedicated recruitment team. However, 46% of HR leaders regard this as a top priority, with 36% saying that their company's current talent sourcing strategies are not sufficient for finding the skills they need. As a result, the business requires improvement with its Employee Value Proposition (EVP) to stand out against competitors also searching for the same talent. EVP is a unique set of benefits that positively attracts targeted candidates, and together with the Employer Brand, encompasses the main methods of engaging sought after candidates. The values offered by the company are not always related to monetary and material benefits, but the brand culture as well. For example, 76% of job seekers see company diversity as crucial when they are making application decisions, and a business considered to be a reputable brand receives 50% more qualified applicants. Ensuring that your business meets criteria such as these is a key aspect of your company's HR strategy and development.

By focusing on the recruitment within your business from a HR standpoint, you are ensuring that future employees are more likely to positively contribute to the overall value and capability of the organisation.

As well as improving EVP and brand reputation, you can also implement or improve the following strategies:
Create welcoming and practical recruitment and onboarding experiences for new employees.
Effectively demonstrate and communicate your company's Environmental, Social and Governance (ESG) initiatives.
Demand and deliver high quality interactive experiences between recruiters, managers, and potential candidates.
Implementing external referral benefits and rewards when current employees help to source and recruit top talent.
5 – Preparing for the Future World of Work
For HR professionals who have experienced the impact of the Covid-19 pandemic, they know the absolute importance of being able to adapt to rapidly evolving changes within the working world. The consequences of the pandemic swiftly pushed forward the remote and hybrid working situations far more abruptly than previously predicted. Companies had to scramble to either adopt these new working strategies or suffered the consequences of being unable to evolve fast enough to keep up. As a result of the shift towards more hybrid or flexible working during the pandemic, most employees would now prefer a balance where some days they are in the office, and others they remain at home.

Whilst the Covid-19 pandemic was not a normal situation in terms of speeding up workplace culture changes, there are still many factors that can cause a sudden shift in current company practices. Therefore, it is important that your organisation is keeping on top of the current workplace trends as they emerge, and not just when it becomes an urgent need to adopt.

Making use of resources within the HR profession is a viable way on making sure your HR team and organisation are prepared for future trends and cultures in the workplace. Resources could be following blogs by HR companies or professionals, networking with other HR teams and collaborating with them, and conducting your own internal research into what trends are emerging in your organisation.
Read more from the myhrtoolkit blog
The 7 top HR challenges for 2022
HR professionals: what will your job look like in the future?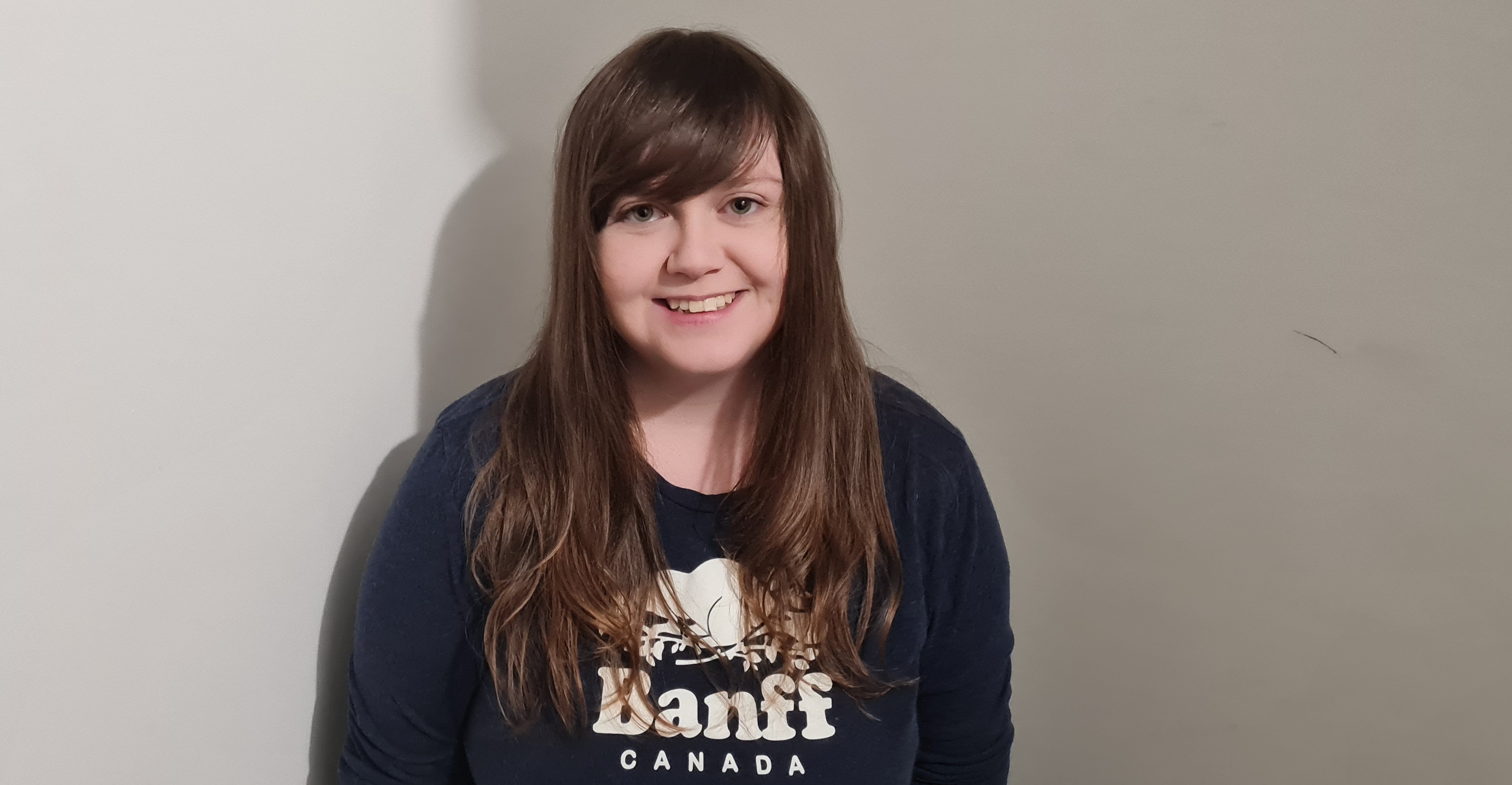 Eleanor is a marketing executive at myhrtoolkit who writes on topics including HR technology and software, workplace culture, and marketing advice for HR consultants.