Myhrtoolkit are proud to announce that we have become a gold sponsor for youth mental health charity Golddigger Trust's 2019 Fundraising Dinner and Auction. Golddigger Trust has been working with young people in Sheffield since 2005 on boosting their self-esteem and wellbeing and also provide specialist training on these issues throughout the UK.
The second annual Fundraising Dinner and Auction will be held on May 10th 2019 at the Megacentre in Sheffield. It's set to be a fantastic evening with a red carpet drinks reception, live music and entertainment, a three course meal, and exciting auction opportunities with holidays, celebrity donated prizes, and once-in-a-lifetime prizes available for bidders.
"We are delighted to welcome Myhrtoolkit as a sponsor for the second year running. Myhrtoolkit have gone above and beyond to help Golddigger Trust in its mission to 'unearth value' in vulnerable young people; from providing pro-bono business mentoring and free subscription to their excellent HR management software, to their sponsorship of our key fundraising event of the year, Myhrtoolkit have made a real impact on how Golddigger Trust serves the young people of Sheffield and beyond.
"The funds raised at this event are vital in keeping Golddigger Trust's services open and accessible to all young people, providing the right help at the right time. It is an honour to have the Myhrtoolkit team with us on the journey as we see young people's lives transformed, and horizons expanded."
- Beth Stout, Golddigger Trust CEO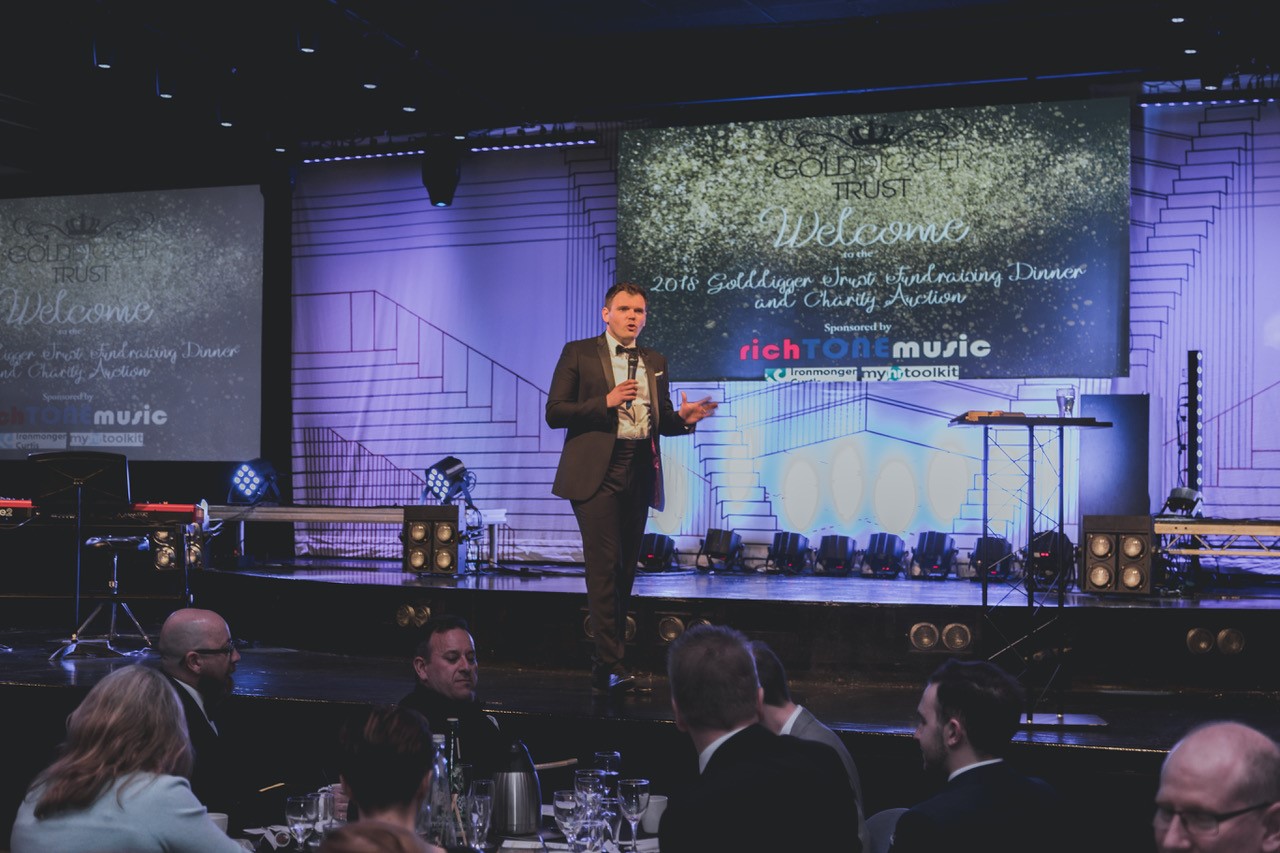 At last year's event, the charity raised £9,000 – this year will be even bigger and better, as the trust are aiming to raise £15,000 in order to expand the services they can offer for vulnerable young people to help them reach their full potential.
Our MD Jon Curtis is thrilled to sponsor the charity:
"It's such a privilege to support a charity like Golddigger and also Beth as a great third-sector CEO. Mental health is such a challenging issue for young people these days and anything the business community can do to help, it should. I'd like to see Golddigger double in size and capacity and making this funding dinner into a roaring success would be a great start".
Sponsorship packages are available for helping this grassroots charity expand on their impressive work across Sheffield and the UK. If your company is considering corporate sponsorship and you would be interested in supporting an amazing charity who provide unique self-esteem and positive wellbeing services for young people, you can find out more about sponsoring the event here.
About Golddigger Trust
Since its inception in 2005, Golddigger Trust has worked with thousands of young people on a variety of projects designed to strengthen their confidence and social connections. The services they offer include drop in sessions, mentoring and befriending, a Managing Emotions course, sexual health support and advice, and the self-esteem courses Made of More and I'm The Girl I Want to Be.
The mission statement of Golddigger Trust is to help young people to 'unearth' the value in themselves. The charity promotes self-esteem and emotional wellbeing through helping children and young adults find out more about themselves and increase their confidence. The team also responds to young people's needs as they arise, focusing on issues such as sexual exploitation, self-harm, and suicidal thoughts within a supportive and understanding environment.
Though they are a Sheffield-focused charity, Golddigger Trust have also responded to the needs of other organisations throughout the UK working with young people. So far, the trust has trained up and resourced 21 teams throughout England and Scotland to be able to work with young people more effectively within the areas of self-esteem and wellbeing. The charity also regularly works with schools, council organisations, and the NHS in the South Yorkshire area.
Charity Sponsorship Opportunities
Though they are a small voluntary organisation, Golddigger Trust have managed to do so much for young people within South Yorkshire and across the UK. We're proud to sponsor this charity to enable them to continue their incredible work – and we invite any interested parties to consider sponsoring them too.
If your company is considering corporate sponsorship and you would be interested in supporting an amazing charity who provide unique self-esteem and positive wellbeing services for young people, you can find out more about sponsorship opportunities for the upcoming fundraising dinner and auction here or call Golddigger Trust on 0114 327 1191.
Want to find out more about how to improve mental health at in your workplace? Read our guide on how to improve employees' mental health.