Business and marketing graduate Jessica Hyde has been doing an 8-week market research placement with myhrtoolkit to learn more about software companies, business processes, and the UK SME market. We were able to offer this remote internship through a scheme sponsored by Santander.
Myhrtoolkit's Customer Engagement Director, Bob Teasdale has been thrilled with the outcome of the internship: "Jess was our first intern, remote or otherwise, but with our approach to remote communication and feedback it was easy to onboard Jess, who quickly settled in, becoming part of the team.
"She has done an excellent job in her short time with us, producing original research that will help us understand the SME landscape in more depth and tailor our product and communications to deliver the best HR software for our target market."
Finding an internship during lockdown
Fresh from finishing her degree, Jess was looking for opportunities and found myhrtoolkit's internship advertised through Sheffield Hallam University. The marketing research aspects of the role appealed to her as they related to what she had learned about during her degree course and offered ways for her to apply her knowledge to real-life situations.
She said of her experience: "The placement has gone by surprisingly quickly! It has been strange doing the entire thing remotely during lockdown, but nonetheless it has been exciting and I have learned a lot."
Jess previously studied for a degree in Business and Marketing at Sheffield Hallam, during which she completed a 1-year placement at a hotel in Stratford-upon-Avon.
The market research internship
The recruitment process for the internship was entirely remote, given the current pandemic situation – similarly, we recruited remotely for recently hired Senior Developer, Rich Downs.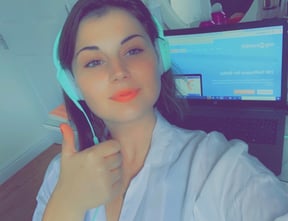 At the start of the internship, Jess was tasked with completing a piece of research on the SME market in the UK. She has also helped us produce an in-depth customer research survey and a report on the various industries associated with our established customers.
She has since become a welcomed member of the Sales & Marketing team, taking part in our daily team calls and chatting to colleagues across the company to gain insights into how different teams function and work together. We will be sad to see her go!
As for the future, Jess is looking into teaching business studies in a secondary school. "However, I'm also looking into having more time in industry to build my knowledge and skills."
Related articles
How myhrtoolkit have been adapting to 'the new normal'