A guide for Controllers
The myhrtoolkit HR software system has provision for handling different types of absence – sickness absence, holidays, and general absence. This guide focuses on the last of these.
A system-wide list of types of General Absence can be maintained in an organisation's myhrtoolkit system. This list is configurable to suit the needs of the users within the organisation. A default list is provided, which you can then edit.
To view the types of General Absence currently defined, navigate to Config > System > Absence > Types of general absence.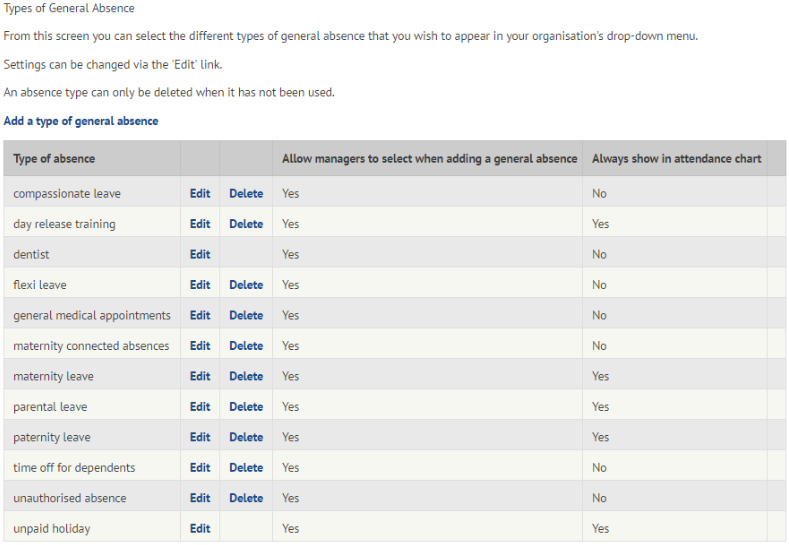 The visibility of each type can be configured appropriately for your organisation's use. Each absence type can:
be hidden from a Manager's pick list. This option can be used when it is no longer relevant to your organisation.

be only shown on the Calendar for managers. This option might be used when the absence may be of a sensitive nature.
Adding a new general absence type
To add a new type, follow the Add a type of general absence link.
Give the new type a name, and select the required visibility. Use Submit to add it to the list.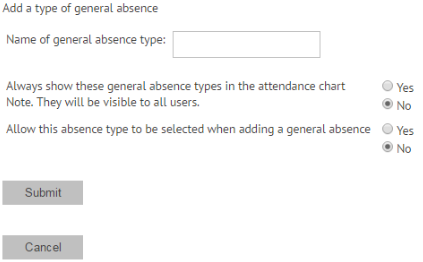 Editing a general absence type
To edit a type, follow the Edit link in the type's row.
Make the amendments necessary, and Submit.
Note – If a type has been used to record an absence, then you will not be able to edit the name (as this would skew any existing data).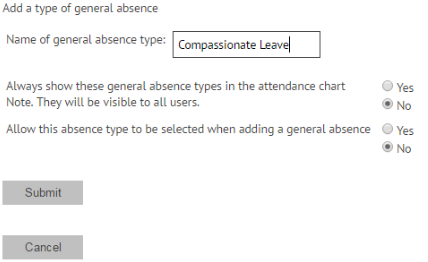 Deleting a type
To delete a type, follow the Delete link in the type's row. You will be required to confirm the action.
Note – Similar to editing, if a type has been used in any recorded absence, it can not be deleted and the

Delete

link will not be available (as this would skew any existing data).
General absence in use
A system's General Absence list may be a constant work in progress, responding to the changing needs of your organisation. Whatever state it may be in behind the scenes, Managers will still use it in the same way.