There may be many reasons why a meeting record needs to be deleted - it may be that the details were incorrect, that a whole meeting cycle is no longer relevant, or an employee has left. Myhrtoolkit provides facilities for editing scheduled meetings, but when editing isn't sufficient and the record needs deleting, navigate to the Meeting schedule tab in the Performance Management module.
Meeting deletion
At the right of each scheduled meeting row is an Action button. Clicking will reveal a menu of options.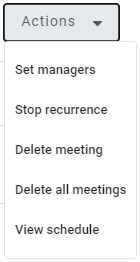 Select whether to delete the meeting or, if it is part of a series of meetings, there will be an option to remove all of them. The form that shows will give reminders that this action is permanent, and there will be no option of recovery of any related data in the future. Follow the instructions on the form and the deletion will be carried out.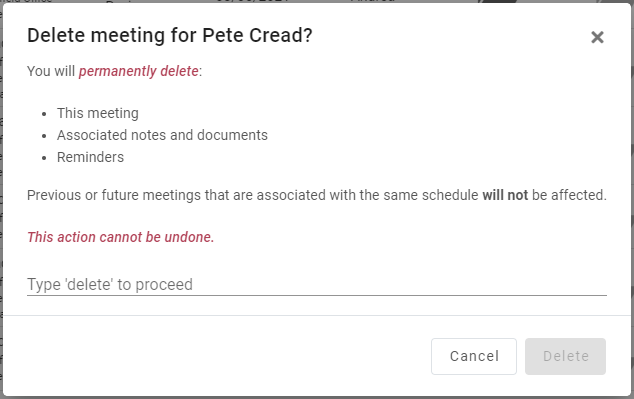 Video walk-throughs
This video shows how a meeting is deleted:

This video walks through the process of deleting all meetings of a type relating to an employee: