Once you have entered values for Annualised Hours, myhrtoolkit will calculate the amount of hours that the organisation would expect the employee to work over a period of up to 12 months previously. In doing this it will consider previous time periods, the annualised hours values, and the applicable part time percentage.
It will start at 'Today' and work back, calculating a rolling 12-month value unless prior to the 12-month window:
the user reaches their start date;
there is an Hours status period with no Annualised Hours; or
there is a period of Variable Hours.
If any user has Annualised Hours entered, an additional bar will appear under their record summarising their current Annualised Hours position.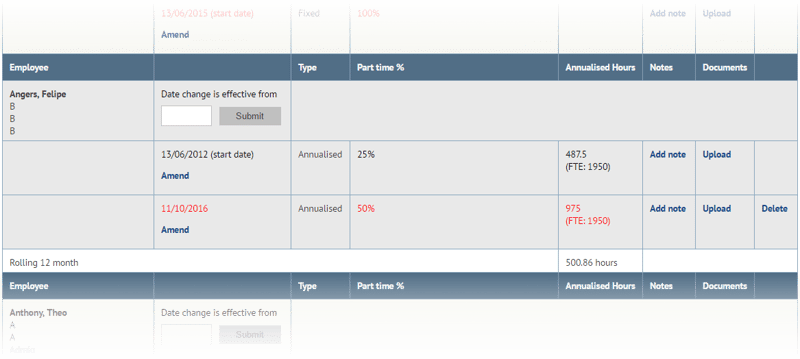 Messages that may display
Certain messages may be displayed in Management > Hours status > Annualised.
Rolling 12 months
Average annualised hours for incomplete year: from <Date>
This tells you that the myhrtoolkit HR system is unable to calculate a full 12 months prior to the date shown in the message.
This may be due to the employee not having completed a full year, or because the user had a period of Variable hours within the previous 12 months.
It's also possible that it's because the employee was Variable Hours within the last 12 months.