Myhrtoolkit provides easy administration and comprehensive tracking of holidays. To see the management facilities, navigate to Management and select the Holidays icon.
Managing Holidays using myhrtoolkit



The page provides a menu to all the holiday functionality, each of which will be examined.

This guide is primarily for managers who have been granted Holiday Manager status.
Responding to holiday requests
When employees submit requests for holidays a note will appear in your message board, you'll receive an email, and the actual request will be visible in the Outstanding holiday requests tab.



At this point you have the option to accept or decline the request.
Approving a holiday request
If you choose to grant an employee's request, you can then accept the request (tools for checking employee availability, etc. can be found in the section Attendance and Holiday request history).
Approval is registered immediately in the system, and there is provision for updating the message that is posted on their message board; default text is placed in the form, which you are able to change as needed.
Note – If your organisation uses a two stage approval process for holiday requests, notes to that effect will be shown. Further details can be found in the guide to two-stage holiday approval.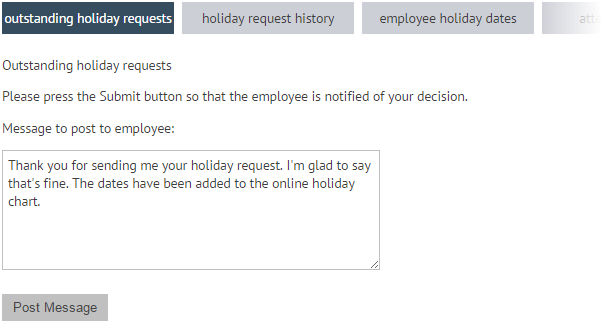 Note – If a holiday request is not approved by the starting date of the holiday, the system will display additional advisory messages, and the request will remain available for approval.

Declining a holiday request
If an issue is identified with the employee's request and it must be declined, myhrtoolkit provides you with the opportunity to pass feedback to the employee. The process is identical to approval.
Holiday request withdrawal
It may be that, after a holiday is booked and approved, an employee wishes to withdraw a holiday request. If this happens, a request to withdraw will appear on both your message board and outstanding holiday requests.





As with booking, there are options to accept or decline, with confirmation details that can be posted as necessary.
Holiday setup functionality
Attendance and Holiday request history
If you need to investigate the impact on the business of requested time off, the Attendance chart tab will show potential conflicts.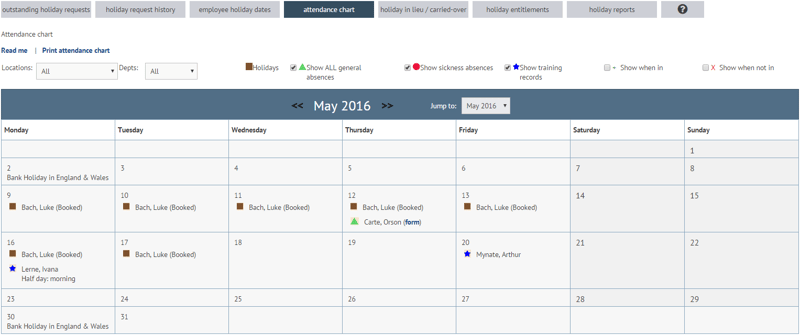 Holiday request history will show previous requests, filterable across various departments within the organisation.



Holiday entitlements
Users have their holiday entitlements assigned during the New Employee Wizard, but can be administered by managers (with the correct rights) and controllers.
Note – See the overview of Holiday Entitlements for further information.
A User's entitlement can be changed in two ways, depending on whether the change is an amendment to an existing entitlement, or a new entitlement (e.g. with a promotion).
Adding a new entitlement
Against the relevant employee's record enter the date you would like the new entitlement to start and press Submit.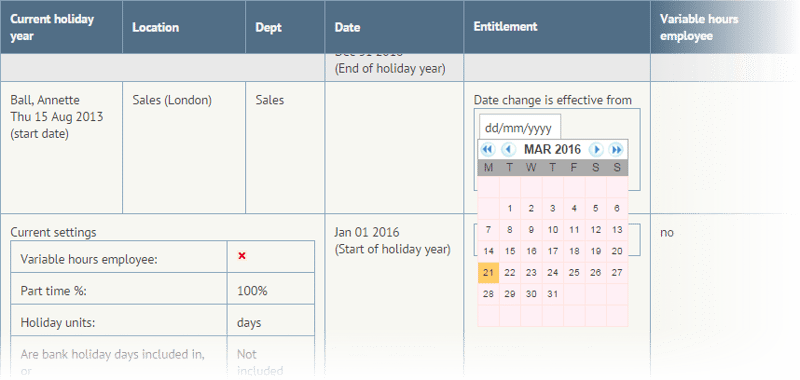 On the following screen, input the new entitlement and Submit.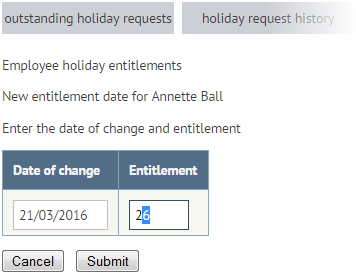 The changes will be reflected in the user's entitlement record: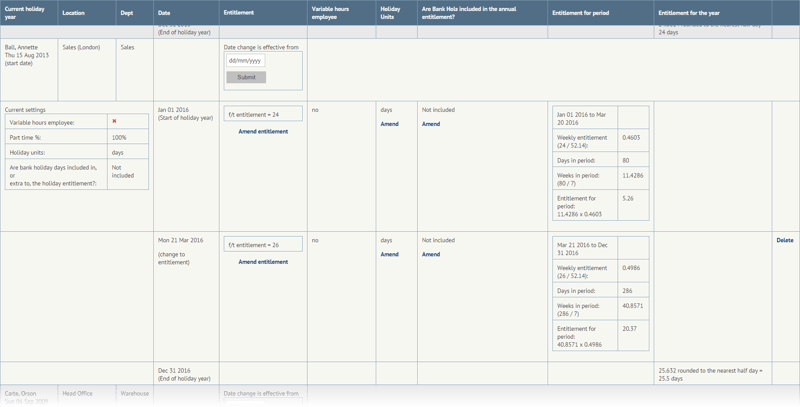 Amending an entitlement
Amending entitlements is very similar to adding. It is initiated by clicking the relevant Amend links in the employee's record. Follow the instructions on the following screen and submit. If the link was followed in error, you can use the browser's 'back' button if a Cancel isn't available.



Note - New users will need their holiday entitlement assigning before any holiday requests can be made and tracked. Whilst this is generally handled in the new employee wizard, it may have been missed.

Entitlements are administered from the

employee holiday dates

tab. Users that need holiday entitlements assigning are indicated with with a link 'You must enter the employee's current annual entitlement first'. Following the link will show various aspects of the employee's entitlements.

To modify these details will require a User with Controller permissions.



A fully updated employee's record will show details of their holiday request history, along with your and other holiday manager's feedback.



Carrying forward/holidays in lieu
Myhrtoolkit provides functionality for managing what happens when when untaken leave is carried forward into the next holiday year. This is a self explanatory screen in which updates are made in situ as required.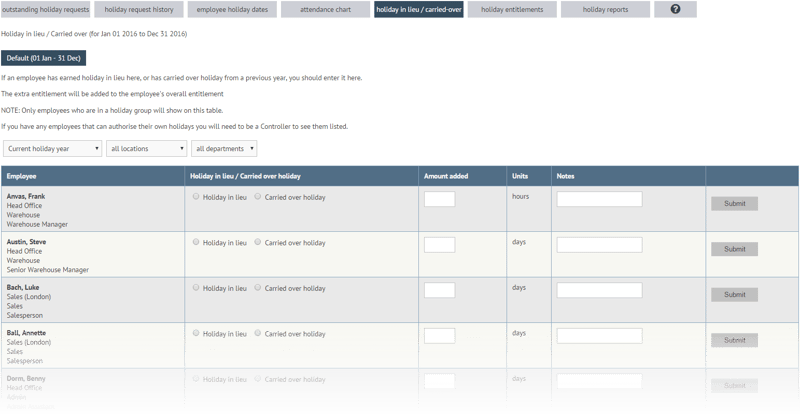 Reports
Myhrtoolkit provides efficient reporting via the 'holiday reports' tab, which gives access to the holiday entitlement and remaining holiday entitlement reports.
Holiday entitlement report
The Holiday entitlement report is a straightforward filterable overview of current and previous entitlements, requests and outstanding holidays. The view can be exported as an Excel file for external use.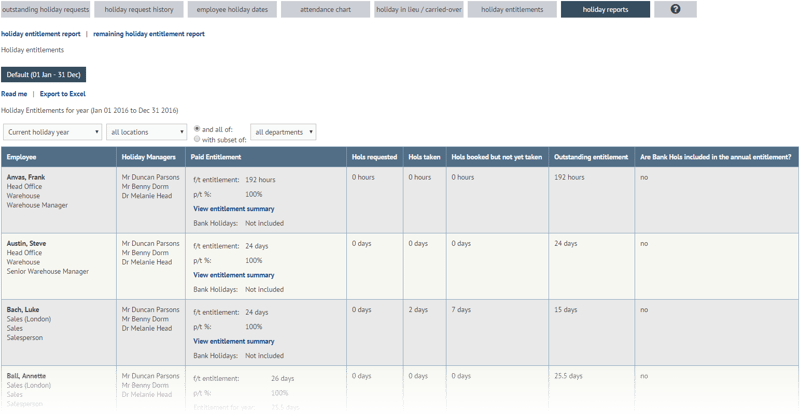 Remaining holiday entitlement report
The Remaining holiday entitlement report, like the entitlements report, is a filterable grid giving a more in–depth view of employee holidays, both taken and remaining, on a month by month basis with year–to–date figures. The view can also be saved in a format ready for Excel.