When a holiday manager approves or declines an employee's holiday request, the myhrtoolkit system will notify the user by email and put a notification on their message board.
The default message sent when a holiday is approved reads:
Thank you for sending me your holiday request. I'm glad to say that's fine. The dates have been added to the online calendar.
When a holiday is declined, the default message is:
Thank you for sending me your holiday request, I'm afraid I've got to decline the request because…
Controllers can set custom notifications for holiday requests that are more in line with organisational policy by going to Config > System > Holiday.
There are two areas that can be customised in this screen –
Display a note to employees when they request holidays
Message emailed when a holiday request is either ACCEPTED or DECLINED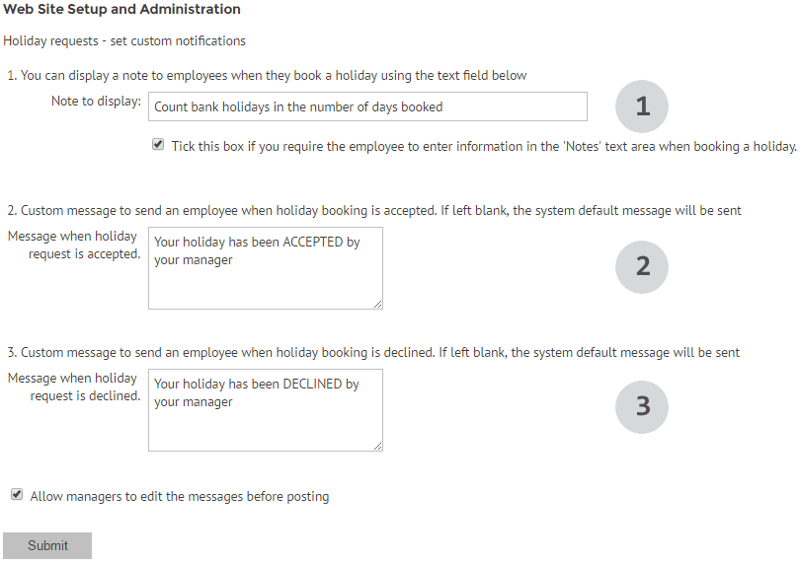 In the absence of custom holiday booking messages, myhrtoolkit will use the default messages.
Notes for employees booking holidays


Text entered in the textbox 1 (above) will be displayed to employees when they request holidays as shown in the image below. Ticking the box below the text will force employees to add descriptive notes with their holiday requests. If unticked, writing notes becomes optional for employees.




The message below is displayed when the system is configured requiring notes, and a user fails to provide the detail with a holiday request.
Custom message for approved or declined holidays


Ticking the box that says "Allow managers to edit the message before posting," enables holiday managers to post their own messages. This would have to be done for every holiday request. An example of how this would look like is given below.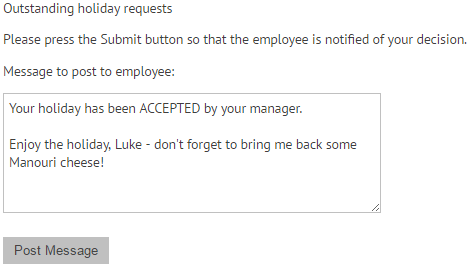 Where managers are not allowed to change the text, they will only see confirmation of the default message being sent.