The Assign benefits page shows employees, the benefits assigned to them, and an Actions option for editing assignments. The view is filterable, by standard myhrtoolkit dropdown menus of Location, Department, etc., but also by Benefit.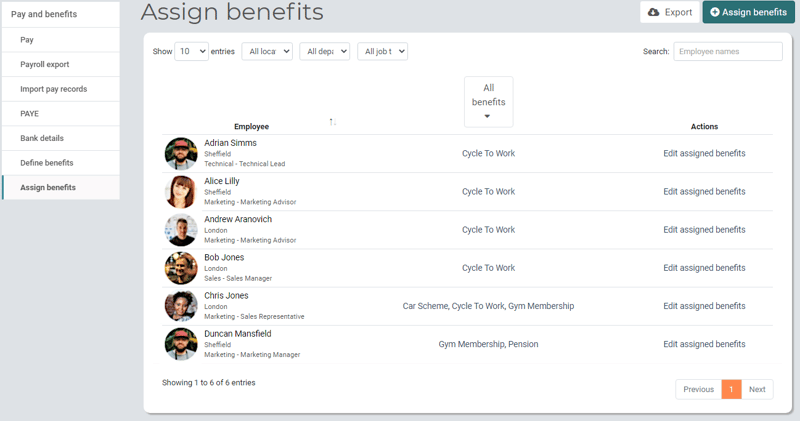 Assigning benefits
The simplest method of assigning benefits is via the Bulk assign benefit button in the top right of the page.
This four step process starts using an OmniBox to select employees.
In the second step type into the selection box the benefit you wish to assign. As you type, suggestions of existing benefits in the system will be shown in a menu. When a selection has been made, any employees in the currently selected list who already have the benefit assigned will be shown, and not include in the update.
The third step is where dates can be assigned. All the employees selected will be assigned the benefit for the time period, as specified here.
The fourth stage is a simple confirmation. When ready use the

Assign benefit

button to confirm and assign.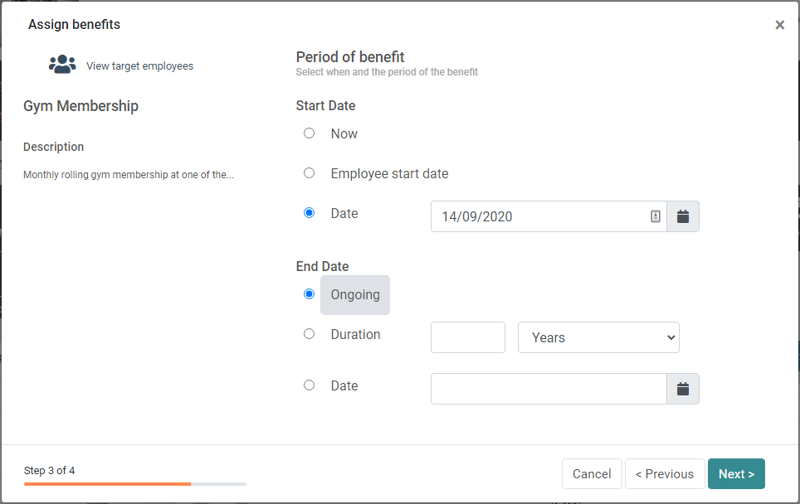 Note

– familiarity with this procedure's behaviour will help with almost all aspects of the benefit assignment functions.
Individual benefits
Clicking the 'Edit assigned benefits' button to the right of an employee shows the benefits assigned to them. Using the Actions button on this new page allows you to edit or delete the employee's assigned benefits.
The Add Benefit button in the top right allows a benefit to be added, and follows a subset of the pattern used in the Bulk assign benefit procedure mentioned above.
Editing benefits
Back at the main Assign benefits page, each benefit name is also a link which, when clicked, will list all the employees you manage that have the selected benefit assigned to them, along with the details of the benefit's assignation. Using the Actions link at the right hand side of a row, the dates of the assignment of the benefit can be edited and updated.
There is also a button at the top right of the page, Bulk assign this benefit, which operates in a similar matter to the Bulk assign benefit procedure above.