Myhrtoolkit's Senior Marketing Executive, Camille Brouard, is already our prized resident wordsmith – but now she's a poetry competition winner too!
Camille was recently awarded 1st place in the Channel Islands category of the Guernsey International Poetry Competition, run as part of the annual Guernsey Literary Festival. The Channel Islands category was created specifically for local-living (or born) residents from any of the Channel Islands. There were also Open and Youth categories for people to enter globally.
Guernsey International Poetry Awards
The competition, which had over 2,000 entries across all categories, was judged by Kate Clanchy, who is an award-winning poet and teacher.
Camille said of the news: "It was a lovely surprise to receive the call that I had gotten first place in the Channel Islands category! I submitted a poem about my grandparents, who have dementia; they both got COVID-19 during the first lockdown last year and thankfully survived. It was a difficult time and writing poems about it helped me process."
Her poem will be shown in an exhibition across the islands, as well as those from other category winners, and on a bus as part of Guernsey's 'Poems on the Move' campaign.
Life in Guernsey during lockdown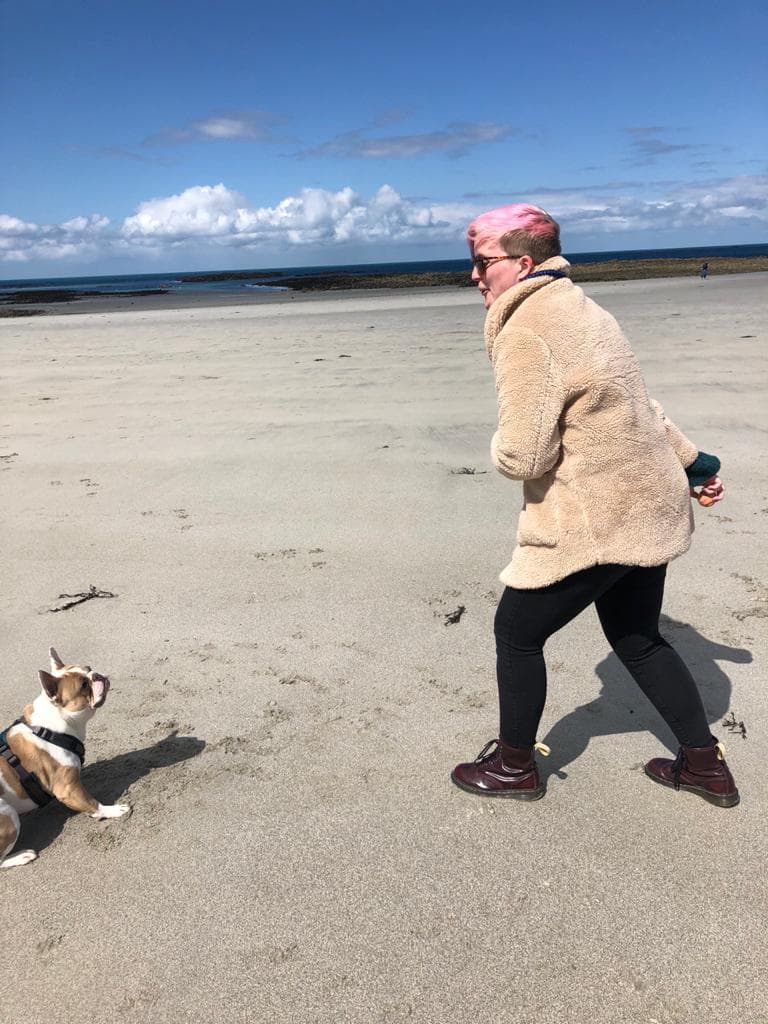 Camille on the beach with her dog, Bo
Camille has been our Guernsey correspondent since the beginning of the first lockdown in March 2020! She moved back there to live with family during the pandemic and is currently the team member furthest away from our offices in Sheffield.
She has continued to work remotely as our Senior Marketing Executive, getting a promotion during this time (we had quite a few promotions and new starters in 2020!) and contributing in particular to our popular series of HR webinars. She started writing poetry in earnest during the first lockdown and this is one of her main hobbies, alongside playing ukulele.
Her plan is to move back to the UK later this year, as things start to open up again and we can begin to return to the office. "I've enjoyed living in Guernsey for the past year or so, despite the reasons why and the upheaval involved. However, I have missed Sheffield very much and am looking forward to heading back later this year!"
More myhrtoolkit news
Agilio acquires myhrtoolkit ltd