After a fruitful 6 years at our previous offices, myhrtoolkit has moved on to bigger things! We are now based at 178 Shoreham Street in Sheffield City Centre, a stone's throw away from both Birdhouse Tea Bar & Kitchen and the Triple Point Brewery – both highly exciting prospects.
Currently, all our staff are working from home in line with COVID-19 government guidelines, but look forward to using our new office space once it is safe to do so, following any precautions necessary.
New offices, new signage
Just as we've upped the size of our offices this year, we've upped the size of our company signage too! We had a new sign made by S&S Signs and Graphics installed in January, which has really made the new office building feel like ours: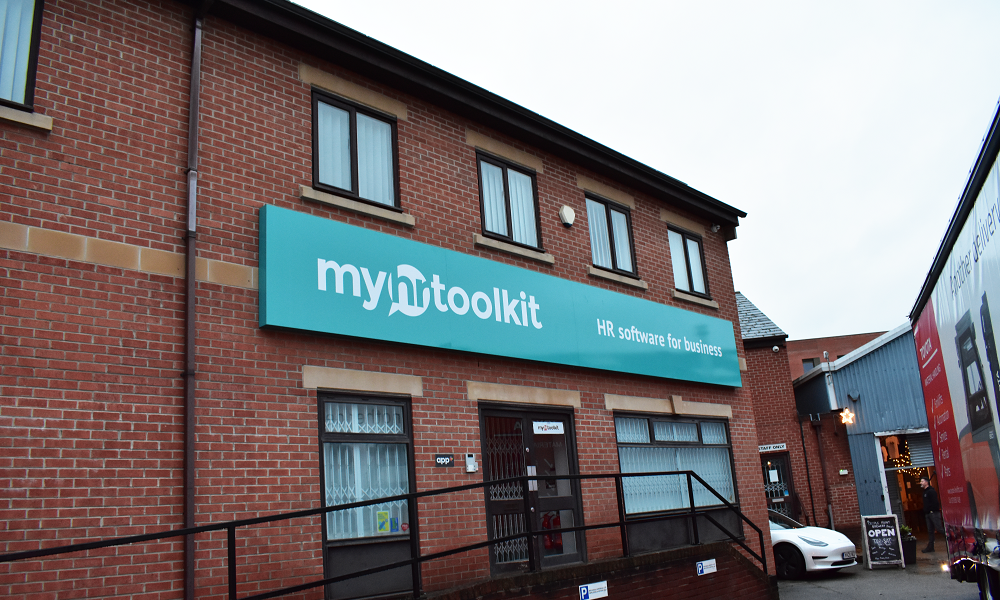 What's the myhrtoolkit team up to in 2021?
As we provide a digital product, it has fortunately been relatively easy for us to adapt to remote working long-term since the first lockdown in March 2020. This means everyone at myhrtoolkit has been able to remain as safe as possible during the pandemic and continue business uninterrupted.
In fact, we've continued to recruit and grow as a company during this time, hiring Cliff Hewson as Marketing Manager and Rich Downs as a Senior Developer, Jessica Hyde as a remote intern, and more recently Hannah Wheater as Social Media and Digital Marketing Executive.
We will continue to work fully remotely for the time being, still providing excellent software, support and resources for the SME community through our webinars and blog posts. Our new premises will accommodate our growing team once we are able to all work from the same place. So it's a case of watch this (office) space!
As our Customer Engagement Director, Bob Teasdale says:
"Last year wasn't easy for anyone, but the myhrtoolkit team worked so hard to make sure it was business as normal. In March last year lockdown hiring seemed highly improbable, but now it's just how we do things. Once we are able, I'm especially looking forward to inviting our customers and partners to come and see us at the new myhrtoolkit HQ. It can't come quick enough!"