Employees need to generate their calendar links by clicking on the link that says Click here to generate your calendar link.


If you have deleted the message from your message board you can also click on the "Reset my calendar link" link in Myhome > Holidays > Outlook options.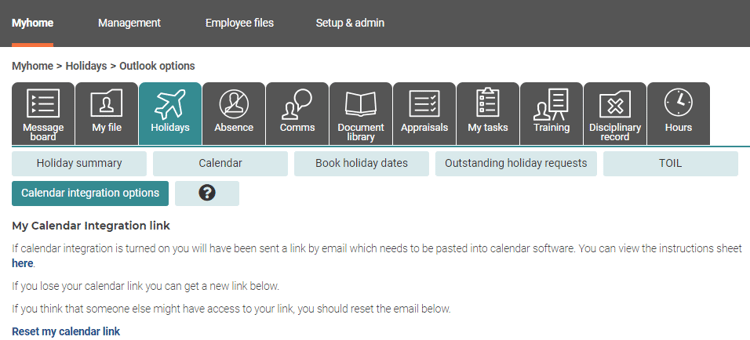 After clicking on Generate a calendar link you will be sent an email with a link that you need to configure your calendar in Microsoft Outlook or Google Calendar.

Not received an email?
Check your spam to see if it has gone into there. If the email has gone into spam, ensure that you mark myhrtoolkit as a "safe sender" of emails in the spam options. This should stop any further emails going into spam.
Check with your myhrtoolkit controller to ensure that they have your correct email address in Management > Bulk data > People > System emails.
If you still don't receive an email, go to Myhome > Holidays > Outlook options and request your link to be emailed again.
If you still don't receive an email, ask your myhrtoolkit system controller to contact support.
Highlight the link sent to your email (do not include any spaces) and copy (usually right click and copy). You will need to paste this link into your calendar system.
To unsubscribe from a myhrtoolkit calendar, follow the instructions on the unsubscribe page.