Myhrtoolkit provides many export formats for a variety of uses, one of which is a dataset for targeting Payroll applications. To use this functionality requires that the user be a Controller, or a Manager with access rights to the Reports page.
To export data for Payroll, navigate to Management > Reports > Payroll reports > Employee payroll details.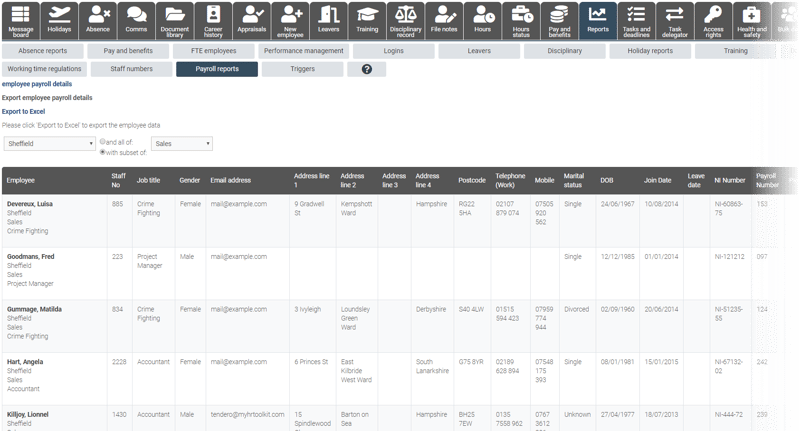 Select the subset of employees required using the usual myhrtoolkit selection tools. Using the Export to Excel link, a file in CSV format will be downloaded of the employees listed on your screen.
Notes

Multiple exports may be required to export details for large numbers of employees
Further manipulation of the export dataset may be required before import into a Payroll application. Please consult that application's support documentation.
The fields exported in the CSV file are
Employee name
Location
Department
Staff No
Job title
Gender
Email address
Address line 1
Address line 2
Address line 3
Address line 4
Postcode
Telephone (Work)
Mobile
Marital status
DOB
Join Date
Leave date
NI Number
Payroll Number
Payrate
Salaried
Salary
Date of last pay deal
Std Hours
Pay frequency