Myhrtoolkit allows Controllers quite detailed configuration of what the Managers have access to on the Management dashboard.
Navigate to Config > Access rights > Managers' rights.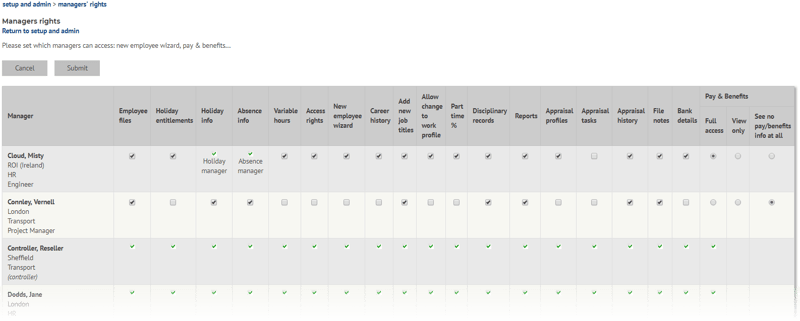 All the Managers are listed in the table, along with tick boxes for each of the functions available for configuration. Some items are simple binary choices, others have more granulated access available (e.g. Appraisals, Pay & Benefits). Some Managers have access to certain features by default as a result of being Holiday or Absence Managers.
Controllers have complete system access, and as such cannot have permissions removed.
After making the updates required, scroll to the bottom of the page and click Submit.
Managing Other Rights
There are two other places where further access rights are granted:
Config > Access rights – Managers' document rights and

Config > System > Access to holiday chart.
Assigning minimal rights to managers
It is sometimes necessary to limit a Manager's access, for instance if someone has been made a Manager for the sole function of them being a Holiday Manager.
This article, Granting a manager minimal permissions, outlines how to do this.
Access Rights
In the Managers' Rights grid mentioned above there is an option for controlling whether the Access Rights icon is shown on a Manager's Management toolbar.
Access Rights grants a read only view of which users have rights to certain areas of the system (Controllers have additional links on the pages providing shortcuts to Config).

It is divided into four areas
Controllers – Shows who the controllers are within an organisation

Managers – Highlights which parts of the system are available to other Managers

Holidays –

Lists who are Holiday Managers, and the users they oversee;

Outlines access rights surrounding the Calendar

Lists those Managers who have been granted the right to Self-Authorise Holiday

Absence – Lists who has been designated an Absence Manager
Related guides
Granting a Manager minimal permissions