Alongside the updated Training platform is a new Notifications Centre which provides notifications relating to different aspects of the new training system. It can be accessed from the "Notifications" button at the top right.

When there is a new training-related notification, the bell icon will have a number beside it corresponding to the number of unread notifications.

Inside the Notification Centre, you'll be able to see notifications relating to different aspects of the new Training module:
Training Manager Notifications – These prompt a Training Manager when a different manager marks a user as either having attended or not attended a training event.
User Feedback – This notifies a Training Manager when feedback has been given on a training event.
Requests – This provides an update when a training request is:

Submitted
Actioned
Withdrawn
If the associated event is cancelled

Reminders – These inform a user regarding:

Events starting tomorrow.
Qualifications due to expire (these are sent 8 weeks and 4 weeks prior to expiry)
Providing feedback 1 month after a training event has ended.

Booking – This notifies users when they have been added to a training event (or if it has been cancelled) as well as notifying Training Managers if a training course is archived.

Against each notification is a button to mark it as read/noted. Once clicked, the notification will be removed. Alternatively, there is the option to "Mark All As Read." Clicking this will remove all notifications instantly. Personal notification settings can be set by clicking on either the "Notification Settings" from within the Notifications Centre, or on Settings at the top-right and selecting "Notifications."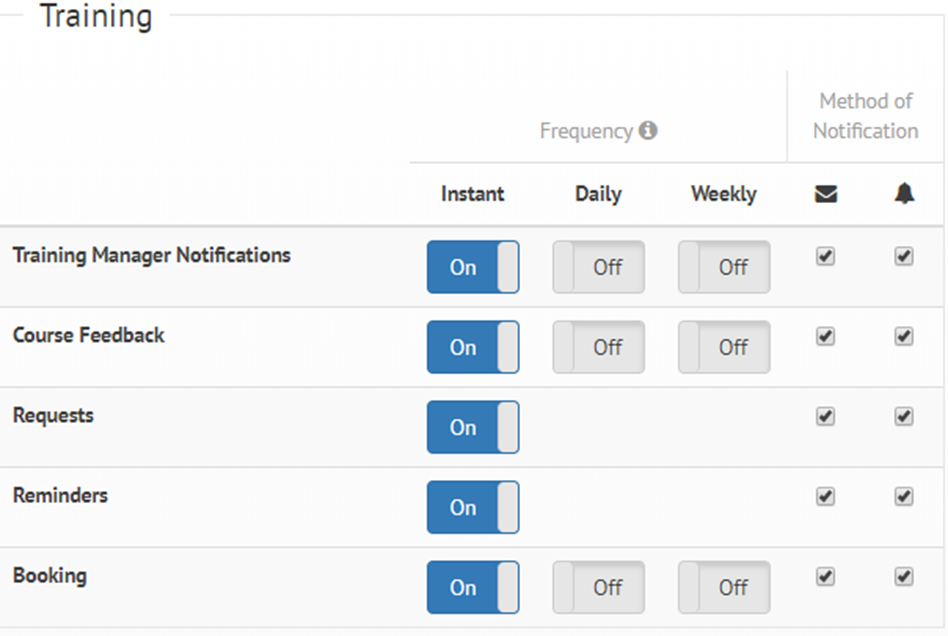 In this area, you can configure how frequently certain notifications are delivered:
Instant – Within 15 minutes of the notification being generated.
Daily – Early hours of each morning.
Weekly – Early Monday morning.
As well as the frequency, you can also specify the method of notifications
Email – This will send as a normal email notification.
In-App – This will send the notification to the Notification Centre
Related guides