LGBTQ+ inclusion is so important for making sure everyone feels safe and comfortable in bringing their whole selves to work. Myhrtoolkit's Senior Marketing Executive, Camille Brouard - who is part of the LGBTQ+ community - shares tips on how to make workplaces more inclusive and supportive for LGBTQ+ employees.
LGBTQ+ inclusion in the workplace is fast becoming a priority for organisations of all sizes across the UK. This includes SMEs as well as big businesses, as LGBTQ+ inclusivity offers a distinct competitive advantage for all organisations.
What does LGBTQ+ refer to?
As an umbrella term, LGBTQ+ includes lesbian, gay, bisexual, transgender, and queer people. Note that more sexualities can feature under the LGBTQ+ umbrella, hence the use of the plus symbol (for example: intersex people, pansexuality, asexuality, and people who are questioning their sexuality/gender identity).
The LGBTQ+ umbrella is inclusive to many different sexualities and gender identities. So too are there many ways we can ensure LGBTQ+ people are supported and included in their places of work.
The benefits of LGBTQ+ inclusion in the workplace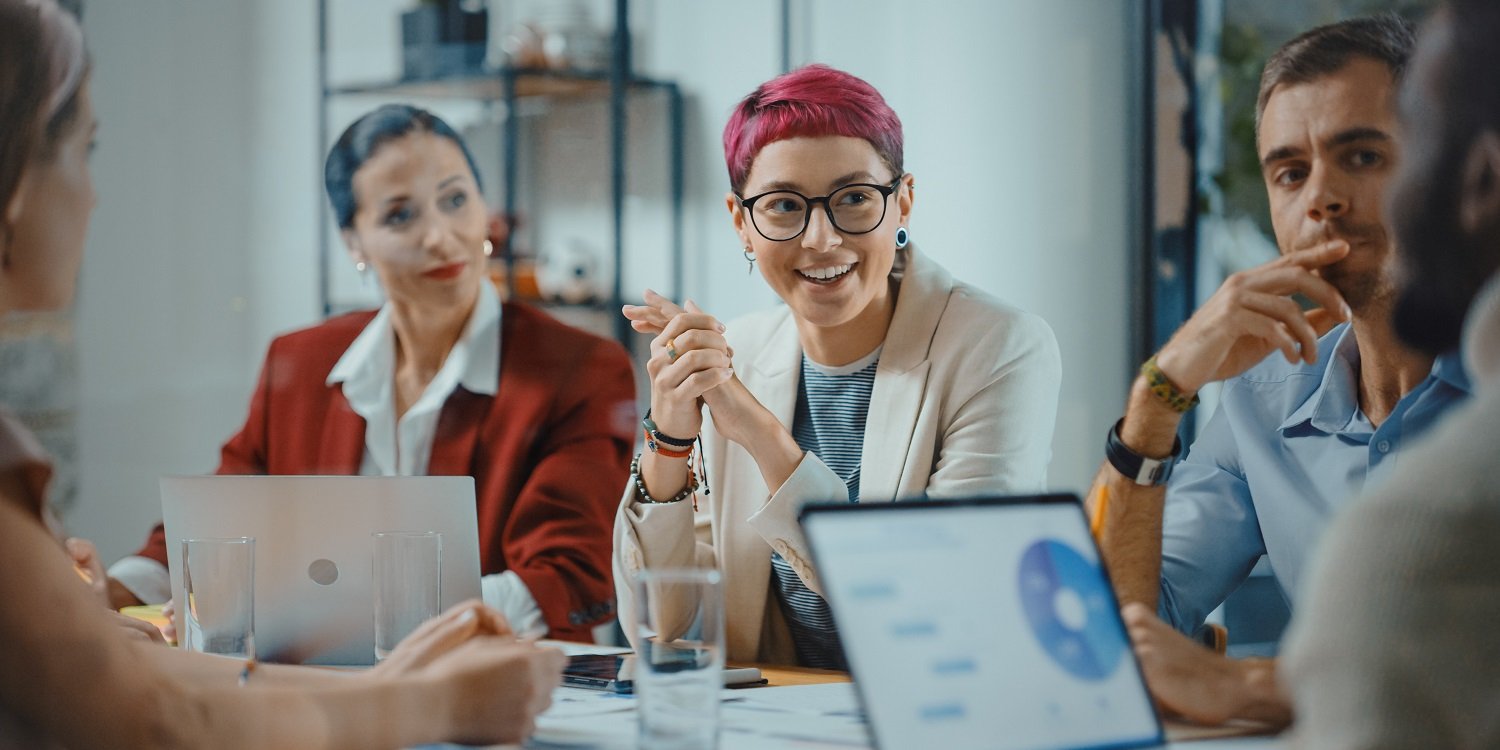 The benefits to an LGBTQ+ inclusive workplace extend beyond that of making sure employees of all sexualities and gender expressions feel safe and valid, though this is the primary reason. LGBTQ+ inclusive workplaces benefit businesses too in terms of productivity and profitability.
A study in the US by Out Now titled 'LGBT 2020 – LGBT Diversity Show Me the Business Case' found that the US economy could save $9 billion annually if organisations implemented more effective inclusion policies for their LGBTQ+ staff. This is partially attributed to avoiding costs from stress and ill-health associated with LGBTQ+ staff who need to hide their identity at work or experience discrimination. The study also cited the customer loyalty and buying power of the LGBTQ+ market. Additionally, customers are likelier to leave businesses who have cases of discrimination made public.
So, having robust inclusion strategies in place for LGBTQ+ staff make sense from a business perspective as well as an ethical standpoint. This is because all employees will feel less stressed and more productive as respected members of a cohesive team.
Strategies for LGBTQ+ inclusion in the workplace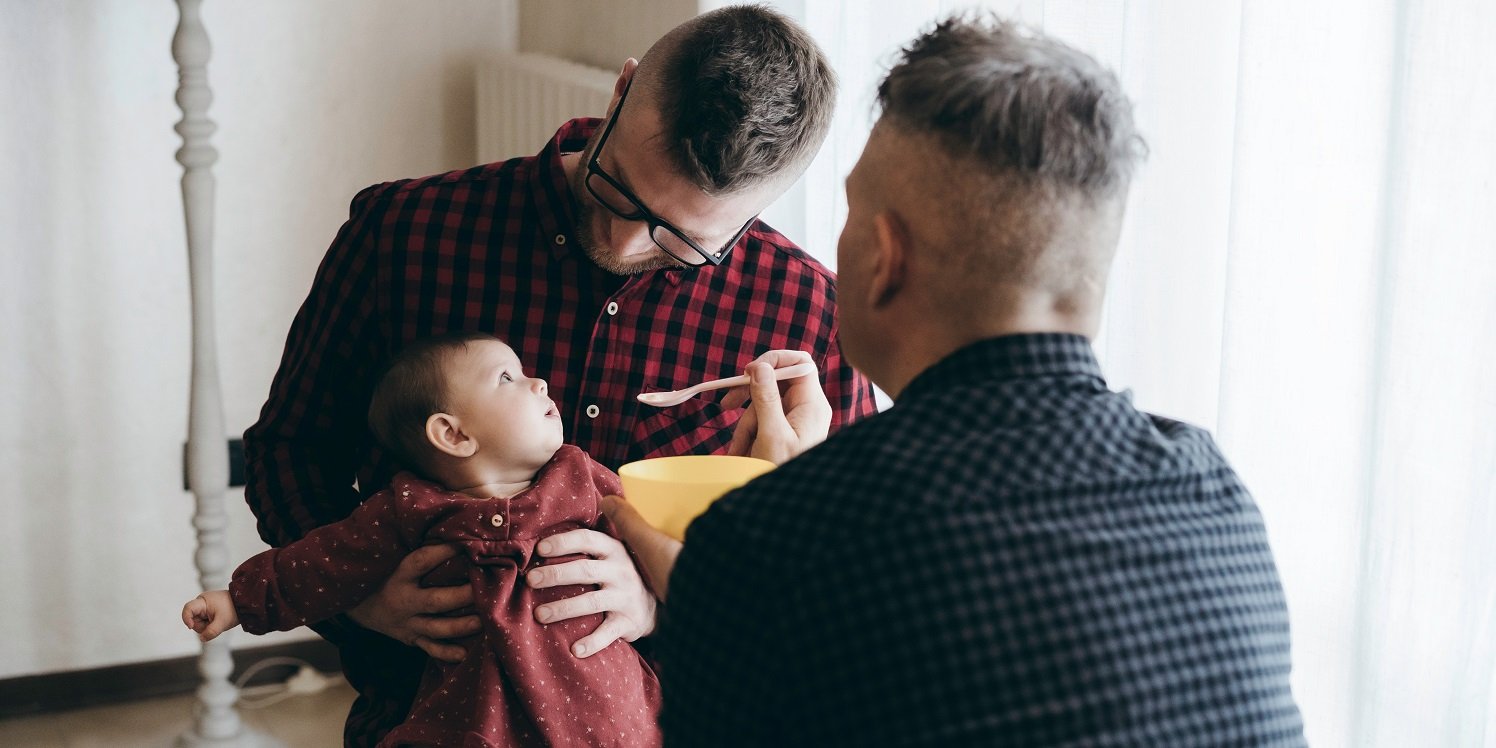 Here are some key LGBTQ+ inclusion strategies that SMEs can consider adopting for a more LGBTQ+ friendly workforce:
Review your policies for LGBTQ+ inclusion
Having LGBTQ+ policies in the workplace is crucial for setting the guidelines on how to be more inclusive and avoid discrimination. LGBTQ+ inclusion should be a core part of your Equality and Diversity policy; having a separate policy for LGBTQ+ inclusion is an even clearer way to show your commitment to tackling discrimination in this area.
Also, make sure all your policies are LGBTQ+ inclusive, for example your policies on parental leave, adoption, and pensions.
Provide LGBTQ+ training
Offering LGBTQ+ training in the workplace as part of equality and diversity training can be a powerful way to educate everyone about LGBTQ+ issues. Training helps ensure your policies are heard and understood across the organisation. Plus, having a training management system in place helps you keep track of your progress.
Learn more: How to implement diversity training in the workplace
Set up an LGBTQ+ network
For growing SMEs, creating an LGBTQ+ network can be a great way to support staff. A network means LGBTQ+ employees can meet in a safe space within their place of work to relate to one another.
As a focus group, network members can also help you identify and improve upon issues affecting LGBTQ+ staff, so you can continually improve your approach. There are some great examples of networks over at the Global Diversity List.
Appoint LGBTQ+ allies
Are there non-LGBTQ+ people in your workplace who are passionate about or interested in LGBTQ+ rights? Get them onboard as an LGBTQ+ ally; they can champion LGBTQ+ inclusion in the workplace and act as a source of support for LGBTQ+ staff.
List your pronouns
Adding pronouns in email signatures, on social media profiles, and stating them in meetings has become much more prevalent in business and the world more generally. Clearly stating your pronouns (be they she/her, he/him, they/them or a mixture of pronouns, such as she/they or he/they) has become a way for everyone to normalise not assuming someone's gender. When everyone gets into the habit of stating their pronouns, this helps trans and non-binary people feel more comfortable to state theirs.
Learn more: How to support non-binary staff in the workplace
LinkedIn recently added an update to include pronouns on your profile, here is mine for example (adding your pronouns is optional - as is my addition of the Pride flag, as someone in the LGBTQ+ community!)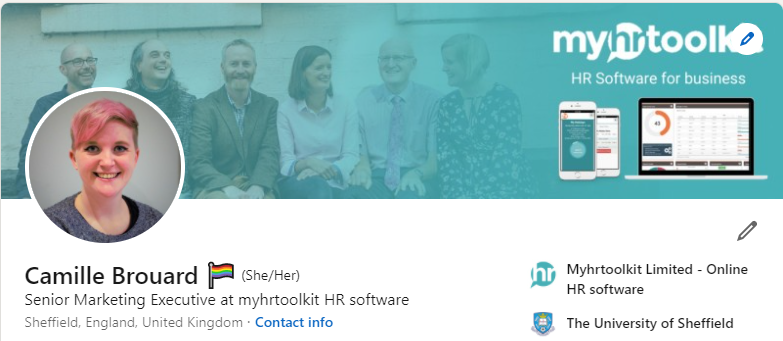 Incorporate gender-neutral language
Gender-neutral language avoids bias towards a particular gender. Using 'they' instead of 'he/she' in contracts and other company documentation is a good step towards this, as is monitoring ongoing communications for gender-neutrality.
There are gender neutral options within myhrtoolkit, so managers can choose from a range of default gender options or add gender information for an employee. Of course, the right option should always be confirmed with the employee before setting.
For more information about how to incorporate gender-neutral language into the workplace, see this guide on inclusive language from Harvard.
Create unisex toilets
Whenever possible, there should be a gender-neutral bathroom option, particularly if you provide singular toilets. Unisex bathrooms are more inclusive for non-binary people, who don't identify within the gender binary that single-sex toilets uphold. Beyond this, unisex toilets are also cheaper to build and cut down waiting times for women significantly.
Celebrate LGBTQ+ history and events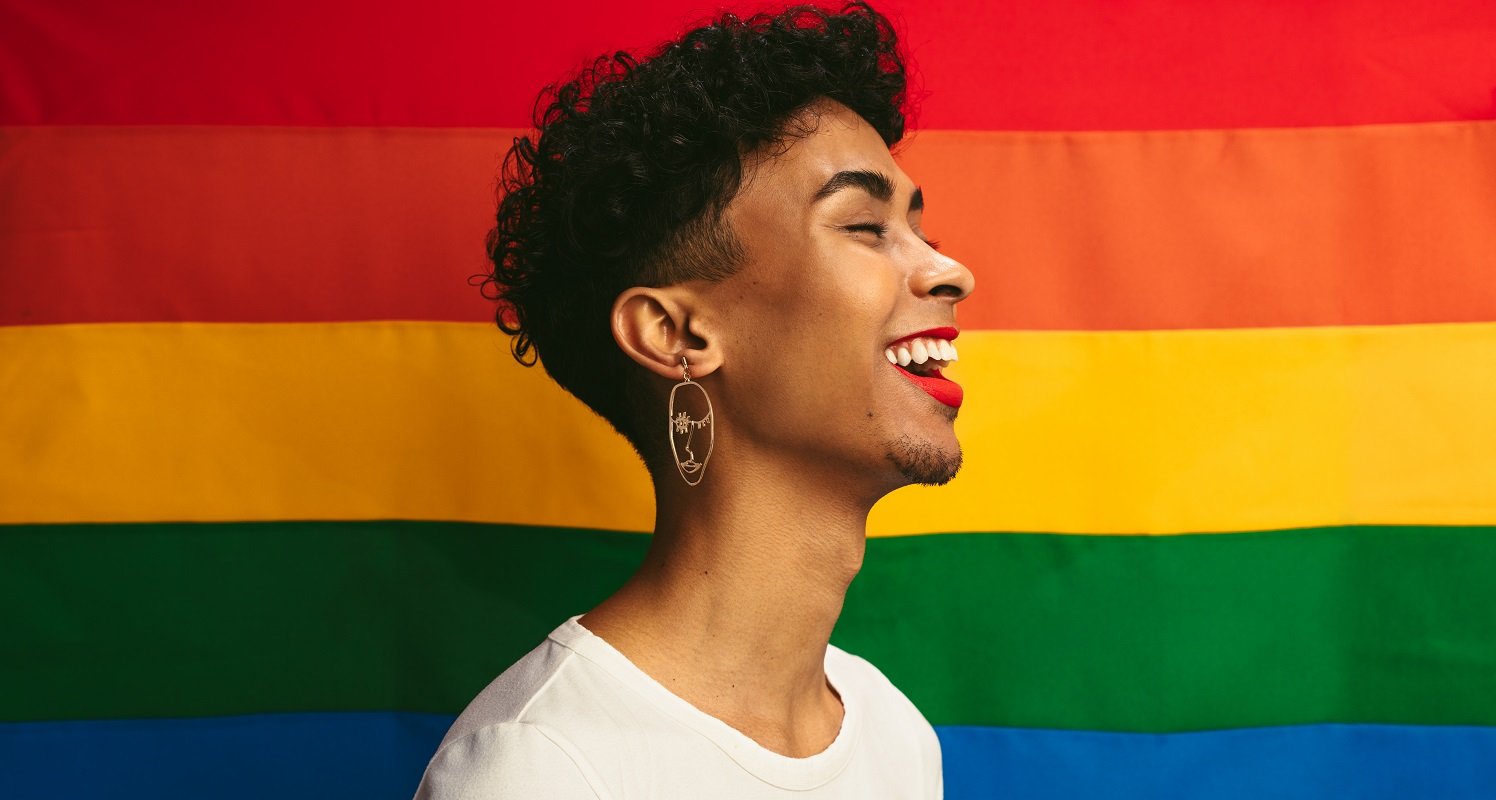 Celebrating LGBTQ+ History Month, Pride, or Trans Day of Visibility just as you would other important days in the calendar. This will be a great boost to LGBTQ+ awareness and inclusion throughout the year.
You can use these dates and milestones as learning opportunities for all staff. Involve LGBTQ+ and non-LGBTQ+ employees and celebrate important days and events to continuously spread awareness of your policies.
Looking for further guidance on how to manage and include diverse employees in your organisation? See our guide to managing diversity in the workplace.
Read more from the myhrtoolkit blog
How to support transgender employees in the workplace
What are the protected characteristics employers need to be aware of?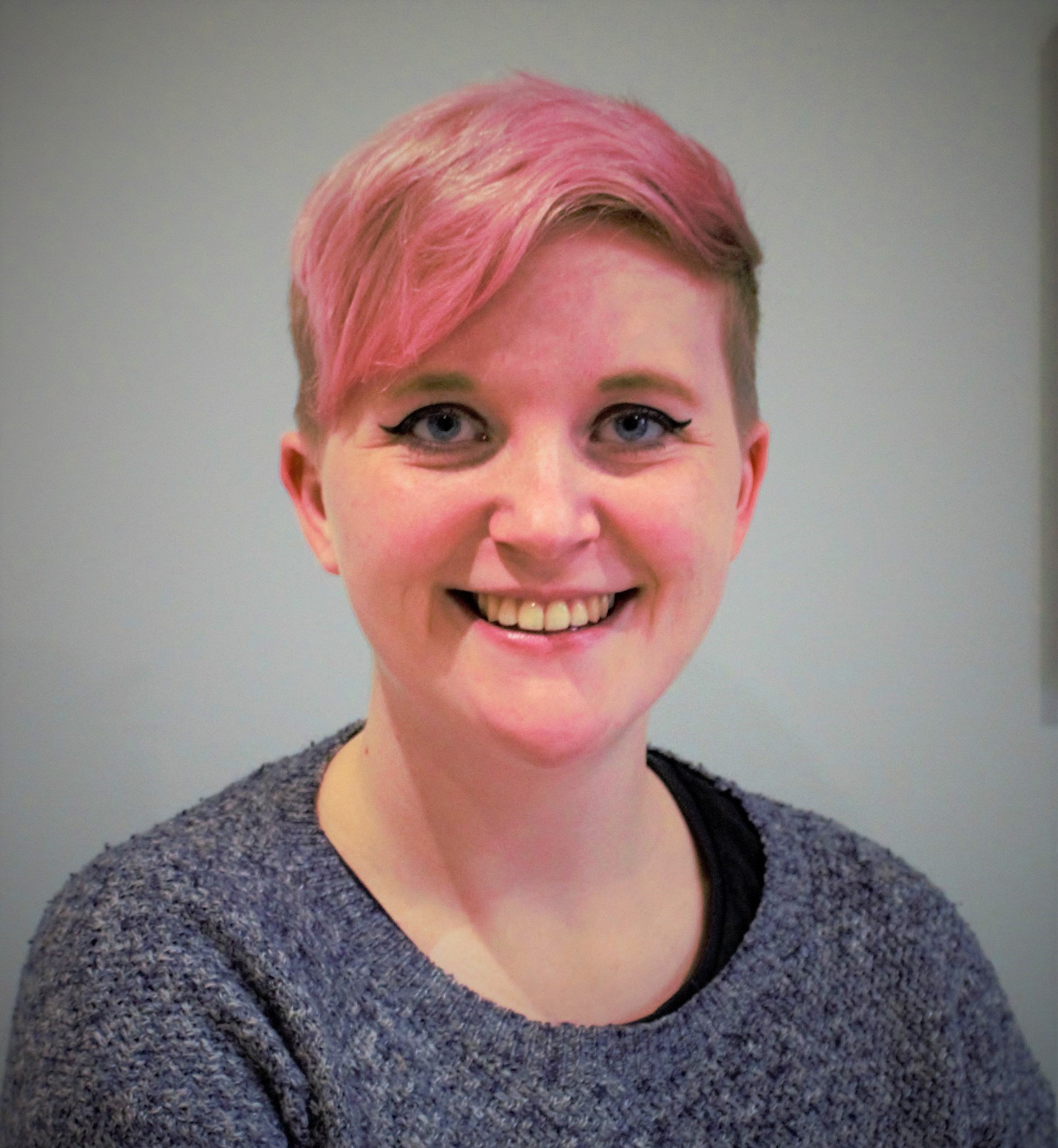 Camille is a Senior Marketing Executive for myhrtoolkit who writes on topics including HR technology, workplace culture, leave management, diversity, and mental health at work.