One of the features of myhrtoolkit's HR software is a weekly email, which reports on a variety of date sensitive events relevant to the coming week. This functionality is only available to Controllers and Managers.
Enabling the weekly email
To receive the weekly email, navigate to Account (top right) and then the Weekly email settings link.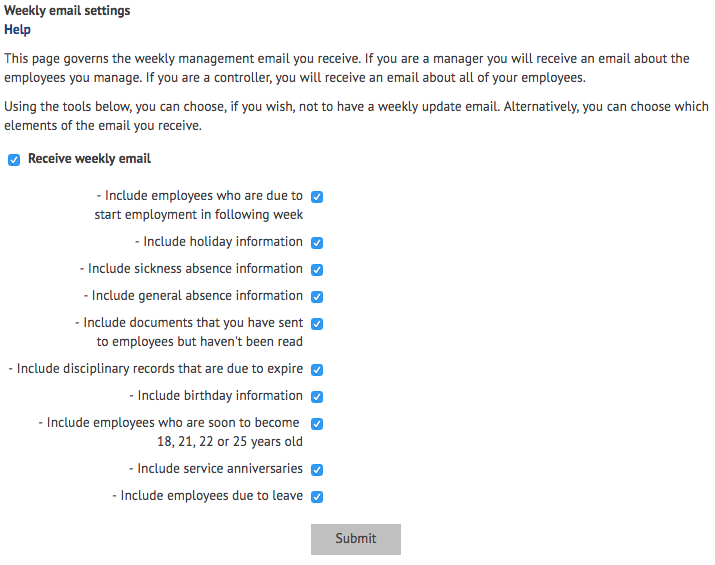 Tick the box that says, "Receive weekly email" and then proceed to choose the email updates that you would like to receive from the list.
Whilst most are self explanatory, notes are given below about each option.
New starters

Any new starters during the coming week will be listed.

Holidays

Employees on holiday at any point during the coming week will be listed, including a section relating to any employees with holidays booked but not approved for the period.

Training

Includes employees with training booked and approved during the coming four weeks, along with a section if there are employees with expiring certificates or training during the same period.

Sickness Absence

List employees who have had sickness absence in the last week, or are still absent.
Note – This can only list those whose absence has been entered into a myhrtoolkit system.
General Absence

Employees with General Absence during the previous week will be listed.

Document Management

Any documents you have sent in the last four weeks which have not been viewed by employees will be listed.

Disciplinary

If there are any verbal, written or final warnings about to expire, they will be listed in this section.

Birthdays

Employees who have birthdays in the next 10 days will be listed. There is an option to highlight those who turn 18, 21, or 25 for minimum wage compliance, this section of the list looks ahead 6 weeks.

Service Anniversaries

This lists employees with service anniversaries within the following 10 days.

Leavers

This includes employees due to leave in the coming week, and employees who were marked as leaving during the previous week.
Related guides
Getting started with calendar integration
Using Comms on myhrtoolkit (Managers & Controllers)