The support page provides notes on what happens at the Holiday Year to enable the event to be negotiated with confidence.
Whilst focused on the end of a holiday year, a number of the functions can be used at any time of the year, and can be used to relieve pressures around the end of the holiday year.

As the end of the holiday year approaches
A report of holiday used can be found in Management > Holidays > Holiday reports > Holiday entitlement report.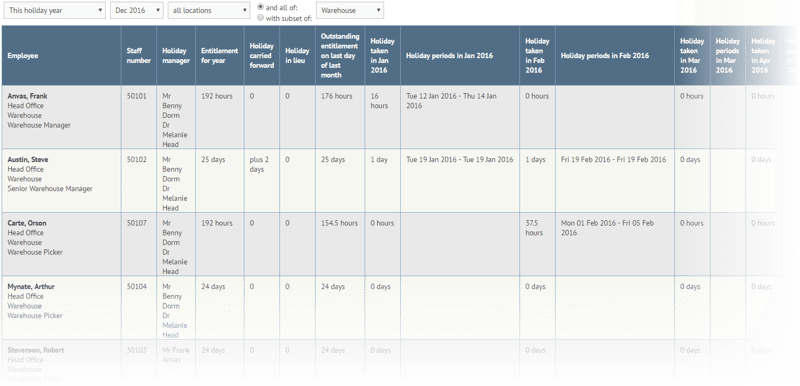 This report will help you to assess the state of your employee's holiday allowances. Your company policies will dictate any action to be taken.

Carrying over days to the new holiday year
Holidays can easily be carried to the following holiday year, the functionality is found at Management > Holidays > Holiday in lieu / carried over. To carry over holiday entitlement:
Select the holiday year to which you wish to carry the entitlement to using the drop-down box towards the top left of the page.

In the employee's row, select the 'Carried over holiday' button, and fill in the amount of the employee's entitlement you wish to be added, and any notes. The units are listed next to the amount text box.

Click submit.

Notes
Carried over holidays are not removed from a previous year. If holidays are to be marked as carried over before the current holiday year is finished, the days can be removed from the current holiday year by following the steps above, except that the current holiday year needs to be selected, and the amount needs to be negative.



Carried over holidays are not added to the employee's contractual entitlement, but noted alongside. This is so that if the employee does not carry holiday forward in future years their contractual entitlement will be handled correctly.

Carried over holidays and holidays in lieu are essentially the same thing to the internal workings of myhrtoolkit, but convenient tags for you to use.

Holiday entitlements
Contractual holiday entitlements are automatically set for each year without any further intervention. At the end of the current holiday year, myhrtoolkit will handle the change over to the new year. If any employees have changes to their contractual entitlements at the start of a new holiday year, these will need setting manually by a Controller.

Variable Hours users
The entitlements of users set to Variable Hours are reset at the start of a new holiday year, they are subject to the same 'use it or lose it' rules as full-time employees.
For further notes, see 'How to manage holiday for VH employees' in the Guide to Variable Hours.
For more information, see the Holiday Controllers FAQ.
Related guides