Uploading Employee Holiday and Absence Data
How to bulk-upload employee holidays
First, go to Management > Holiday > Employee holiday dates > Click here to upload and import the employees' holiday data.
Alternatively, you can also go to Management > Bulk Data > People > Upload employee holiday dates.
Once you reach this page, download the template spreadsheet that you will see in Step 1.
On download it will automatically be populated with the staff names and numbers of all your employees. Save the spreadsheet onto your computer as a CVS - somewhere accessible, e.g. 'My Documents.' The default spreadsheet is an empty spreadsheet with the column headings already prepared. Example below of what the template spreadsheet will look like.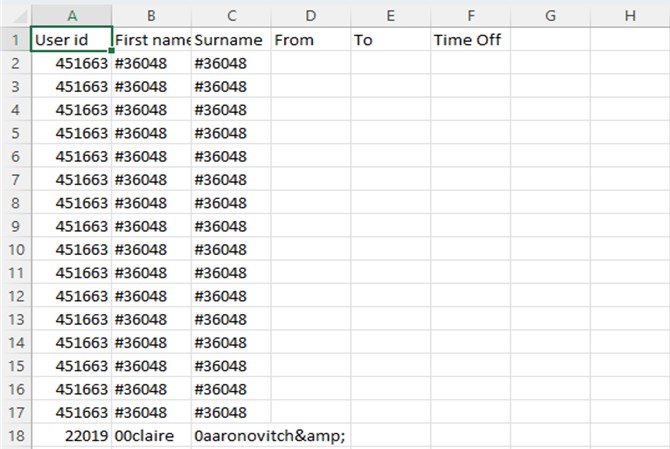 The columns in the spreadsheet are: [ User ID ] [ First Name ] [ Surname ] – these will be pre-populated

[ From ] [ To ] [ Time Off ] – these will be blank (for you to complete)
Cut and paste your data into the spreadsheet. You may leave columns empty, but you cannot create new headings.
Please do not remove or change the numbers in the 'User Id' column. Make sure all dates are in the format dd/mm/yyyy. You must use exactly this format, with slashes, and all 'years' must have four digits (e.g. not '15/01/14', but '15/01/2014') The amount of time off should be entered as a number, i.e. for 3 days off or 3 hours off please simply enter the number: 3
Save the spreadsheet, still in CVS format.
Having saved the spreadsheet on your computer, click on the 'Browse' button to select the spreadsheet and then click on 'Upload employee file' and follow the instructions.
Related guides