This guide is an overview of the Employee Files function in myhrtoolkit. It follows the pattern of the Myhome and Management dashboard guides. Employee files is available to managers and controllers, and is accessed using the button in the top right hand corner of the myhrtoolkit application.
This facility is a virtual version of paper files for employees. Whilst much of the information displayed is available elsewhere in the application, Employee files gives a detailed view of each employee individually, rather than grouped.
Employees can be selected individually from the pick list marked Employees, searched by name, or via a search narrowed down using the department, location, and job title pickers.

Once an employee has been selected, their name will be shown above the icons and a summary may be viewed, along with details of holidays, absence etc.


Summary Sheet
The Summary sheet is an overview of the personal information of the employee, and provides quick links for certain common functions such as adding holiday and absence. There is also information about their holiday entitlement, holiday group, job title and pay (depending on your system setup and access rights as a manager) etc.
This is a useful screen to visit when an employee calls in sick, or a good starting point if there are queries about them.

Holidays
The Employee files Holidays function gives a simple overview of the employee's entitlement and a form for adding new holidays. There is also a button for viewing the employee's attendance graphically by month, which will include holidays marked, with options for other appointments booked.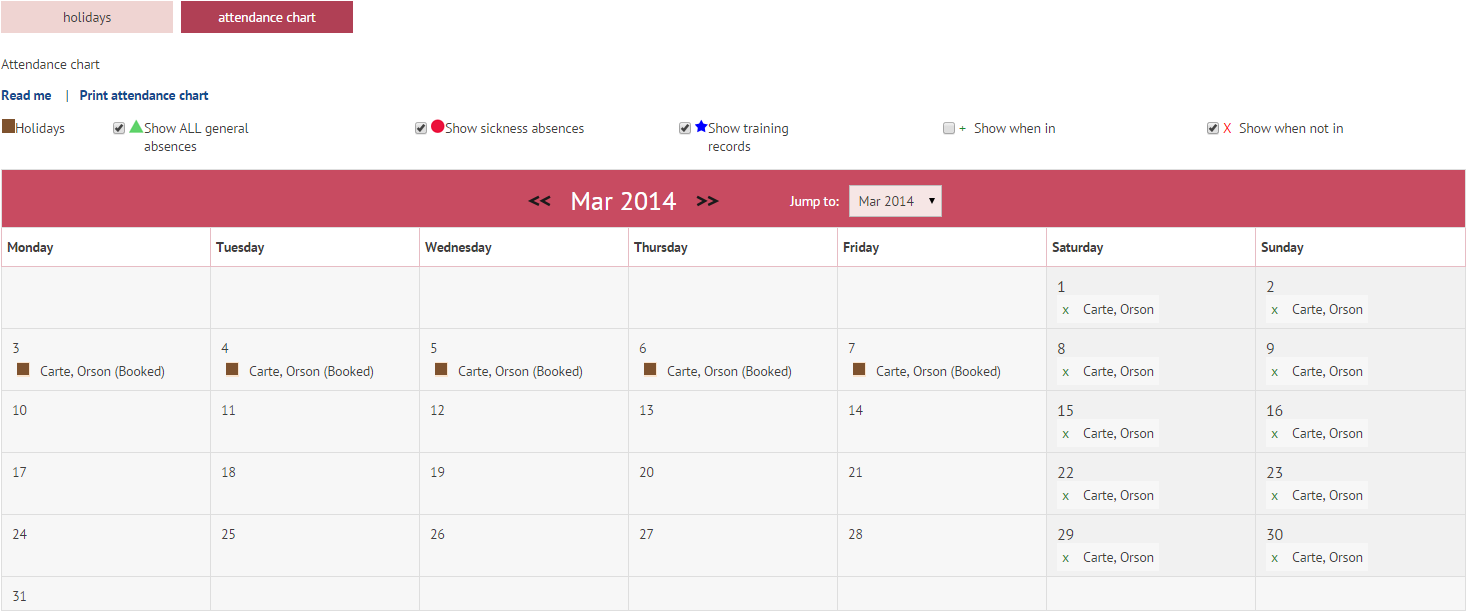 A full guide for using holidays can be found in the page Getting Started With holiday managers.
Absence
The Employee files Absence function gives a simple overview of any absences registered against the employee. Absences are delineated as General Absence and Sickness Absence, and can be filtered by year.
There is also a Calendar, which can be filtered by types of absence.




A guide for handling sickness absence can be found in the Managers' guide to Sickness Absence and another for general absence can be found in the Guide to General Absence.
Document Library
The Employee files Document library function provides a window into the documents that the employee can see and pending documents that they haven't yet opened. The file types available will be the same that are available to you; this may vary depending on your system set-up and access rights. Clicking on the relevant sub-navigation button (e.g. "Induction") will show the documents available along with the date it was sent and the date the employee opened it.
Further information about the Document library can be found in the Managers' and Controllers' Document Library FAQ.

Appraisals
The Employee files Appraisals function provides a window onto the employee's appraisal history.
Appraisals are examined in greater depth in the Managers' guide to Appraisals.

Training
Training in Employee files gives a quick time-filterable view on an employee's training record.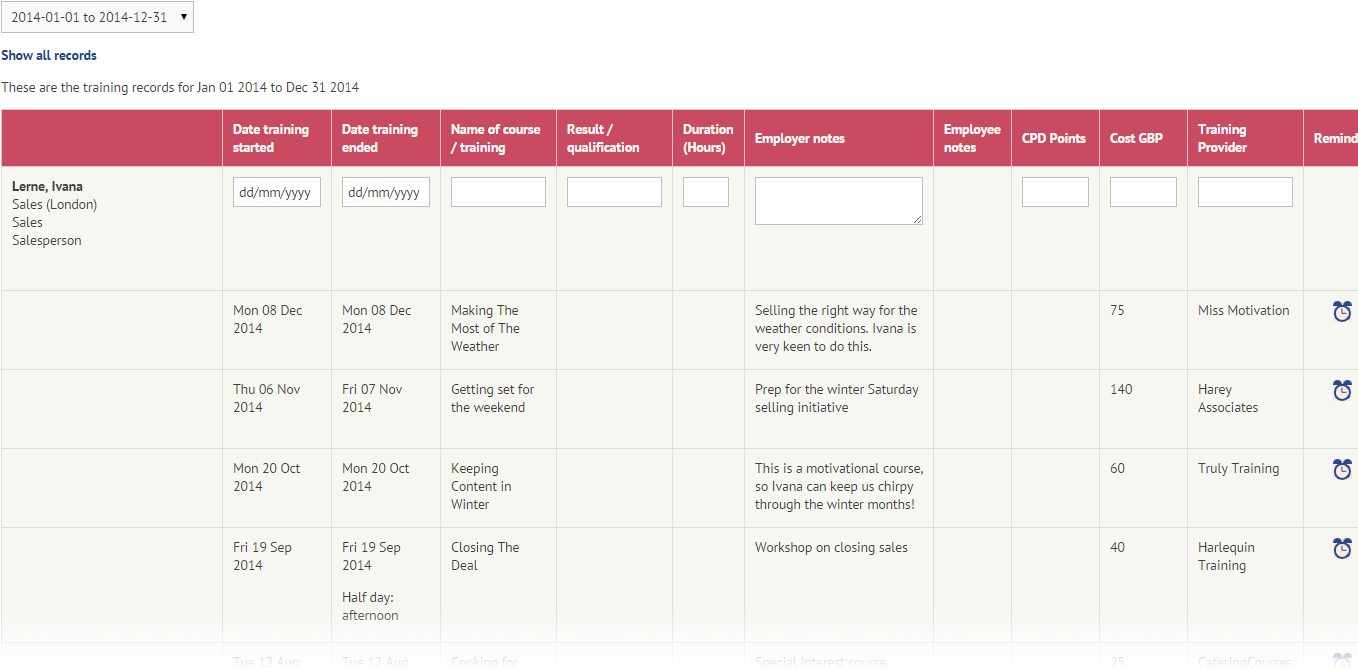 As with the Employee files Holidays and Absence functions, Training also has a filterable Calendar.
A more comprehensive guide to training can be found in the Managers' Guide to Training.

Disciplinary record
This function will give a view onto all outstanding disciplinary actions recorded against the employee. Expiration times for formal warning, as set in you system, are displayed for your convenience.
Further information about myhrtoolkit's Disciplinary function can be found in the Managers' and Controllers' guide to Disciplinary Record.

File Notes
The File notes function is for recording additional information about an employee. Unlike the similar function found via the Management dashboard, the Employee file version shows only the notes for the chosen employee.
Further information about myhrtoolkit's File Notes function can be found in the File Notes support page for Managers and Controller.

Hours
This view in Employee files shows the selected employee's standard working hours, and provides another Calendar view.
Note – This is read only here; altering an employee's hours is done via

Management

>

Hours

.
Hours status
Employee files provides a quick, editable view on an employee's Hours status.
Further information about Hours status can be found in the Guide to Hours Status.

Pay and benefits
Note – The level of detail available here will depend on how your organisation has configured your myhrtoolkit software system.
This page provides an editable view on an employee's basic pay (including visibility on hours status), and a read-only view of benefits.
If documents relevant to the pay record or benefit that have been uploaded, they will be available here.